Caring for Your Baby's Teeth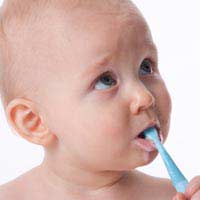 It's an exciting time for parents to see their baby's first teeth arrive, although less pleasing for babies who have to endure the discomfort of teething. As soon as your baby has one or more teeth fully through in their mouth, then the teeth need to be cared for on a regular basis to keep them healthy and strong. Here are some tips for caring for your baby's teeth and encouraging a healthy attitude to teeth.
Teething can start from when a baby is about six months of age. The first teeth to appear tend to be the two incisors – or so-called cutting teeth – that are located in the bottom centre of the mouth. By the time a baby reaches their first birthday, they can have up to six teeth and they continue to appear at regular intervals up to about the age of three years old.
When to Start Caring for Teeth?
As a parent, you should start caring for your baby's teeth as soon as each full tooth appears and is visible in their mouth. Aim to clean their teeth once a day, ideally in the evening, after their last feed of the day. This is important, as milk contains a lot of natural sugar and this can cause tooth decay.
How to Clean Your Baby's Teeth
Find a very soft baby toothbrush – there are plenty available in the shops – and purchase some age-appropriate toothpaste. For babies, a toothpaste with 1,000ppm of fluoride is recommended, as fluoride can help the teeth become stronger and reduce the risk of tooth decay occurring.
There are many child-friendly flavoured toothpastes on the market, but some people believe it's better to start children off with a mild mint flavoured toothpaste, as it's then less of a transition later on from baby toothpastes to adult toothpaste.
Babies don't always enjoy the feeling of a toothbrush in their mouth, so it's a good idea to introduce it as a fun activity each evening, before they go to bed. You may need to experiment with different positions, such as holding your baby on your lap, on their changing mat or sitting in a baby chair. Make up a toothbrushing song composed just of 'ah ah' and 'ee ee' sounds (to the tune of a favourite such as Twinkle Twinkle Little Star) and brush baby's teeth while you both sing - it works a treat!
As they get older, children will hopefully want to join in with the toothbrushing, holding the brush themselves. You can also encourage extra interest from toddlers by purchasing brightly coloured toothbrushes or brushes with their favourite book of TV characters on.
Encouraging a Positive Attitude to Teeth
It's helpful if you can encourage a positive attitude to teeth from a young age. It not only encourages children to be active in caring for and cleaning their own teeth, but also in going to the dentist for regular check-ups.
Many parents worry about when to take their children to the dentist for the first time. In order to get them used to the experience, there's no harm in taking a baby or toddler with you to the dentist when you go for check-ups – although perhaps don't have them in the same room if you're major dental work performed!
The advice from dentists is that children can have their own teeth checked and monitored from as early as you wish – from when they have a few teeth, to a whole mouthful.
You might also like...