When to Try for Another Baby?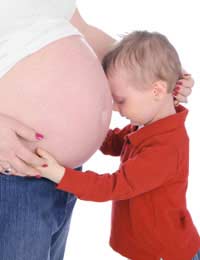 If you've already got one child, but are feeling the pangs to do it all again, when is a good time to start trying for another baby?
At its most basic, there's no right or wrong time to start trying for another baby. However, there are practical issues to consider, as well as issues such as the ideal gap you'd like between your children, your age and your fertility.
It's also important to consider the effects on you and your body of having another baby – if you get pregnant too soon after one child, then it could be a lot harder on you to cope with a second pregnancy, and then cope with two young children who are very close in age. That said, amazingly, some people do manage to have two children within a year!
What Gap Would You Like Between Your Children?
If you're planning a pregnancy and not leaving it simply to chance, then it's worth giving some thought to what sort of age gap you'd ideally like between your children.
There are pros and cons involved in having both short and large age gaps between your children. With short age gaps, it can be nice for the children as they will be growing up and going through their child development stages at similar times and should be able to play together. Some parents also like to get the early years, such as sleepless nights, potty training and nappy changes, over in one go, without another baby coming along a few years later and having to start it all again.
But on the downside, it can be very demanding for parents to cope with two young children, especially when they're babies. Your social life is likely to vanish into oblivion and coping with the constant needs of two babies can be exhausting. A long gap may give you more time to recover, but it may not be quite so fun for your children and they won't necessarily have the same sibling experience as if they're similar in age.
Age and Fertility
Any thoughts about the best time to try for another baby has to take age and fertility into consideration.
For women in particular, their fertility levels typically reduce with age, so if you wait too long to start trying for another baby, it may be harder. Sadly, just because you've got pregnant easily once doesn't guarantee it's going to happen quickly a second time.
Health Issues of Trying for Another Baby
Realistically, it takes time for a woman to recover from the effects of giving birth, so there are health issues to consider before you plunge straight into trying to get pregnant again.
Studies have shown that if you leave less than 17 months between pregnancies, then there's a higher risk of having a baby prematurely or of the baby being born underweight. These risks are even higher if you leave less than six months between pregnancies.
So ideally you need to leave time for your body to recover from the effects of pregnancy – which, after all, is a major experience for your body to go through – and so that you can regain all the nutrients that you will have naturally lost the first time around.
According to some experts, an ideal gap might be about two to three years, as this gives a woman plenty of time to recover from one pregnancy and build up their health to an optimum point for her next baby.
You might also like...