Where to Get Baby Clothing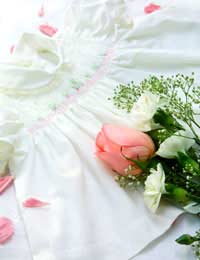 There are few things more tempting to parents and grandparents than racks of adorable tiny togs. Baby clothes seem to get cuter every year and it can be hard not to scoop up all of the latest baby fashions when shopping. When looking for baby clothes, there are a number of terrific sources.
High Street Stores
Department stores, discount retailers, supermarkets and children's speciality shops all offer good selections of baby clothes. Prices vary dramatically from store to store, so unless you absolutely fall in love with a particular outfit, shop around for the best buys. Since babies outgrow their clothes so quickly, it doesn't make sense to spend a lot on everyday items. While the products at discounts stores may not match the quality of those found at department or specialty shops, they are usually good enough to be outgrown before they are worn out.
Online Versions of High Street Stores
With families getting busier and busier, many retailers are now offering the opportunity to shop online and have items delivered directly to your door. This convenience can be well worth the shipping costs, especially when you consider the difficulties of shopping with little ones in tow. Once you become an experienced online shopper, you'll learn some tricks to help you get the most for your money:
Register with your favourite online retailers. Preferred customers often receive emails notifying them of private sales and are offered codes for discounts on merchandise and shipping.

Shop at end-of-the season closeouts to get great deals on items that you can set aside for your baby to wear next year.
Comparison shop for not only merchandise prices, but also for shipping costs.
Familiarise yourself with the online retailers return policies. Some will include a label for free return shipping while others expect you to cover the cost of sending back items that do not meet your expectations. Unless you are quite certain that you will be satisfied with your purchase, the return policy can be an important consideration.
Second Hand or Used Baby Clothing
Garage sales, second hand stores, and online auctions can be terrific sources of bargains when it comes to purchasing baby clothes. Do look things over carefully at garage sales and second hand stores to be sure that they are free of stains and that all snaps, buttons and zippers are in good working order. Also, remember that while the prices are usually non-negotiable at thrift stores, you can barter a bit at garage sales.
Baby clothes are widely available via online auctions, but unlike garage sales and thrift stores, you cannot look the items over before making your purchases. Experienced customers of these auction sites will tell you, however, that there are some ways to increase the chances that you will be happy with your purchases. Some online auction shopping tips are:
Check a seller's feedback rating. This is a good indicator of their product quality and business ethics.
Ask questions! Most sellers will be happy to answer your inquiries, but you must ask before you place a bid. Once you've bid, you are committed to buy.
Look for new items. Many sellers offer items that are brand new, often with the tags still attached. Babies sometimes outgrow things before they've ever worn them and you can pick up some great items at fabulous prices.
To save money on shipping, try to buy multiple items from the same seller. Most sellers are happy to combine items into one box, which can save you a considerable sum on postage.
You might also like...