Iron and Folic Acid in Pregnancy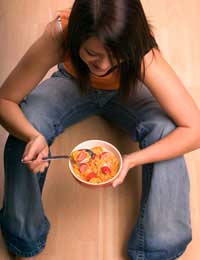 Ensuring you get enough nutrients during pregnancy is essential for both you and your growing baby. Iron and folic acid are two of the key nutrients you need, but how much should you be getting and what role do they play?
Iron is required to help the red blood cells transport oxygen around the body. During pregnancy, there's an extra demand for iron and other vitamins, which are needed for women, the unborn baby and the placenta. Many women find their levels of iron depleting during this time - which can cause anaemia.
Anaemia is especially common in women carrying twins, in those having pregnancies close together, in vegetarians, if you've had a loss of blood due to piles or stomach ulcers and if you haven't got enough folic acid in your diet. Anaemia can make you feel really tired, look pale, experience dizziness, breathlessness and palpitations. In severe cases, it can cause chest pain and headaches.
During pregnancy, your levels of iron should be checked at regular intervals. If it's found to be particularly low, you may be prescribed an iron supplement. However, you can boost your iron levels through eating iron-rich foods.
Foods rich in iron include:
Lean red meat, such as pork, beef or lamb
Eggs
Dark poultry
Sardines
Cashew nuts
Wholemeal bread
Iron-fortified cereals
Lentils
Chick peas
Baked beans
Leafy green vegetables
Dried fruit
Baked potatoes
Sunflower seeds
It's worth bearing in mind that the body doesn't absorb iron from non-meat sources quite as easily as it does from meat. However, you can help absorption by combining iron-rich foods with food or drinks rich in vitamin C, so as having a glass or orange juice with your meal. Both tea and coffee also reduce the absorption of iron, so it's better to drink these at least half an hour before you eat or two hours afterwards.
Folic Acid
Folic acid is one of the most important nutrients to have during the first trimester of pregnancy and before conception, as women deficient in folic acid have a greater risk of having a baby with a neural tube defect such as spina bifida.
Ideally, folic acid supplements should be taken from the time you're trying to conceive (if it's a planned pregnancy) to until the end of week 12 of your pregnancy. The recommended daily supplement dose is 400mcg, but women who've had a history of neural tube defects are usually prescribed a dose of 5mg. In addition to taking folic acid supplements, you should try and eat as much as you can each day, by eating plenty of foods rich in folic acid.
Good folic acid foods to eat include:
Green leafy vegetables
Citrus and kiwi fruit
Peas
Beans
Cauliflower
Fortified breakfast cereals
Fortified bread
Other fortified foods
It's useful to note that folic acid is lost when food is cooked, so it's advisable to only boil vegetables for a short period of time or steam them, to retain as many nutrients as possible.
You might also like...
dr malinga - Your Question:
My wife refuse to take iron and folic acid pills coz she says she vomits if she drink it n she is 3weeks preg.pls help
---
Our Response:
You can get folic acid in tablet form and iron is present in lots of foods such as spinach, red meat, chick peas, tofu, lentils etc. Here is some more information about
folic acid
which might help your wife.
BabyAndPregnancy
- 3-Jun-16 @ 12:45 PM
my wife refuse to take iron and folic acid pills coz she says she vomits if she drink it n she is 3weeks preg.pls help
dr malinga
- 2-Jun-16 @ 8:49 PM