Why Might I Need to Stay in Hospital After Giving Birth?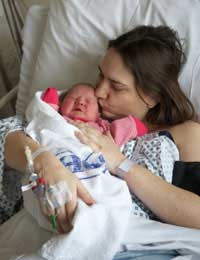 Whether you've given birth in a hospital or birthing centre, or had a home birth, there are times when you may need a short hospital stay after giving birth. We take a look at some of the common reasons why you might need to stay in hospital after having a baby.
Hospital Stay After a Caesarean Section
One of the most common reasons why a woman may need to stay in hospital after having a baby is that they've had a caesarean section. Some caesarean sections may be planned for medical reasons (an elective caesarean), but many more have to be done unexpectedly due to emergencies, complications or if the baby is in distress.
A caesarean section is a form of surgery, so you will need time to recover afterwards, as you would with any other form of surgical procedure. You'll feel tired and exhausted afterwards and will initially have a catheter to help you urinate and may need a drip too.
It's essential you stay in hospital after a caesarean section until the medical staff declare you fit and well enough to go home with your baby – not least as you'll need energy to feed and care for your baby. Even then, it's beneficial to ensure you have help at home for at least a week or longer, especially as you won't be able to do any heavy lifting for six weeks after the op, while your body heals.
A Hospital Stay After a Vaginal Tear
If you experienced a vaginal tear during labour, then depending on the severity of it, you may need to stay in hospital for a few days longer than expected.
Tears can occur as you strain to push your baby out during delivery. Sometimes a midwife needs to carry out an episiotomy, where they deliberately cut the skin and muscle around the perineum, between your vagina and anus, so that your baby can be delivered successfully.
Depending on the severity of the tear, you may require a small amount of surgery after giving birth, to stitch up the affected area. Plus, you'll need painkillers and sometimes a short course of antibiotics to keep infections at bay. By staying in hospital, medical professionals can ensure you are healing well before you head home with your baby.
A Hospital Stay After Pregnancy or Labour Complications
Another reason why you may require a longer than normal hospital stay after having a baby is when you've experienced pregnancy or labour complications. These include conditions such as pre-eclampsia, eclampsia or diabetes.
If you have any prior known medical conditions that could be affected by pregnancy or labour, then you may need extra care after having your baby. Sometimes you may be warned in advance that this may be required, but often it can happen unexpectedly, due to complications experienced during birth.
Whatever the underlying reason for your need to stay in hospital, or be moved to hospital after having a home birth, it needn't be a chore or a negative to be in hospital. If you've had a traumatic birth, then it gives you much-needed time to recover, whilst also knowing that your baby is being cared for well. Many mums welcome the opportunity to be looked after and enjoy the meals too!
If you're not entirely sure why you need to stay in hospital, then always ensure you ask for an explanation.
You might also like...