Donating Your Breast Milk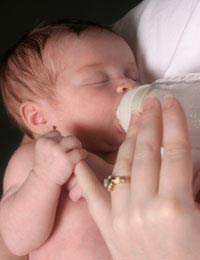 If you're mum to a six month old or less baby, who hasn't yet started weaning, then you could become a breast milk donor. Breast milk is often in demand, to help feed premature infants or babies in neonatal intensive care, and donating your spare baby milk could help save a life or make a significant difference to another baby's start to life.
Why Are Breast Milk Donations Needed?
Breast milk might seem like a strange thing to donate, but actually it can play a vital role in helping babies. Even one ounce of milk is enough to feed a small premature baby for one and half days.
There are various reasons why donated breast milk is needed. Firstly, when babies are born prematurely, their mother's milk might not be quite at the stage where it's ready, so she will be unable to express it for her own baby. As breastmilk is by far the best milk for babies to have, because it's packed with vital nutrients and immune-boosting abilities, donated breast milk can be used instead.
Other babies in neonatal intensive care units or special care baby units may require donated breast milk if their mums are unable to breastfeed or express milk for any other reason. Sometimes there may be problems with feeding, or the stress of having a critically ill baby can stop the milk from flowing like it should, and sometimes babies need more milk than their own mum can provide.
It's also useful in cases where a mum is very ill after giving birth, or in situations where the mum sadly dies. Even mums who have lost their babies sometimes donate milk too, as their breasts are producing it and it's a way of putting it to good use.
How is Donated Milk Stored?
Expressed milk can be frozen, so this is how donated milk is stored. Sterilised bottles are provided by the milk bank – some even offer breast pumps too, to help with expressing milk.
There are various milk banks dotted around the UK and milk is either collected from donors, or taken in to the bank. Collected milk donations are all processed separately and undergo screening and pasteurisation to ensure any bacteria is removed.
Can Any Mums Donate Milk?
Donating baby milk is actively encouraged, but in order to ensure babies receive the best quality milk, there are a few rules and regulations involved.
If you're interested in donating, then you should ideally be a mum with a baby aged six months or under and not have started weaning yet (you can continue until your baby is over six months of age, but younger than that is the ideal time to start donating breast milk).
If you want to be a donor, then contact your local milk bank, or the UK Association for Milk Banking, and they'll give you more details about how to donate and where your nearest milk bank is. If you're keen to give it a go, they'll arrange to have a blood sample taken to be tested for any infections. You'll also be asked about your medical history, if you suffer from any particular medical conditions and if you regularly take any medication or herbal medicines.
There are some circumstances where you aren't able to donate milk, and these are:
If you smoke.
If you take illegal drugs.
If you regularly have more than two units of alcohol a day.
If you test positive for Hepatitis B, Hepatitis C, syphilis, HIV or HTLV.
If you've got an excess amount of milk, or would like a practical way of helping other babies, then donating your own breast milk is a great way of helping.
You might also like...