Safe Spa Treatments in Pregnancy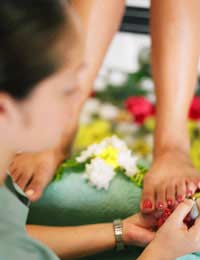 Being pregnant doesn't mean that you have to give up all spa treatments. Far from it in fact – now is as good a time as any to treat yourself to some luxurious pampering!
Spas are all the rage these days and the good news is that most of them are very well geared up to the needs of pregnant women. Although there are many treatments that you can still indulge in when you're pregnant, not all treatments, techniques and products are recommended during this time. For example, it's best to avoid the sauna, steam room and hot tub (they can all raise your internal body temperature too much), body wraps are off the menu and it's not good to have any treatments that involve lying on your back for a long time, as this can be bad for your circulation system. Some people also suggest avoiding all body treatments during the first three months, just as an extra safety precaution.
Some essential oils are also not advised to be used during pregnancy, particularly in the first three months. These include oils such as cedarwood, camomile, eucalyptus, clary sage, juniper, rosemary and frankincense. They're often used in aromatherapy massages or facials. Due to factors such as these, it's important to ensure you go to a well run spa and inform them that you're pregnant (if it doesn't show yet!), so they can help you choose the most appropriate treatment for you.
So What Can You Have?
Despite the list of things to avoid, there are still plenty of spa options that you can safely enjoy.
Foot Treatments and Reflexology
Foot treatment, such as pedicures, foot baths or foot massages, are a great option, especially as your feet and ankles can often become sore, swollen and painful when you're pregnant. And as your bump expands, tending to your own feet gets more difficult, so they may not get much of a look in during this time. Depending on what you choose to have done; foot treatments may involve gentle massages, a lovely soak in warm scented water, the removal of any rough skin and sprucing up your nails. A reflexology treatment also focuses on the feet and can be very relaxing to have done, either as a one off or over the course of several sessions.
Massage
Although a full body massage is often best avoided during the first three months, it's certainly an option later on if you so desire. There's no need to feel self-conscious about your changing body, as the therapist will be used to this (and may only specialise in doing antenatal massages) and there are ways of accommodating your shape. For example, some massage tables have a special cut out bit for your bump to go into, or spas may choose to use bean bags, which support you well, instead. If you're finding that you're extra sensitive to certain smells, it would be wise to inform the therapist in advance and they'll be able to adjust the massage.
Facials
Another good option is a facial, which often includes massage too. Although they're often carried out whilst you're lying on a couch, if you're not comfortable in that position, most places will be happy to offer an alternative position, for example sitting with your head propped up comfortably. If you don't fancy exposing your pregnant body to a therapist, a facial is a great alternative to a full blown massage and can be incredibly relaxing.
Manicures and Hand Treatments
Safe at any time of pregnancy, manicures and hand treatments are ideal if your hands could do with perking up. There are lots of basic manicures available, which normally just include nail shaping and polishing, but if you fancy an extra special one, there are usually additional options which include hand massage, arm massage and even going as far as neck and shoulder massage too. A treatment such as this is a great way of easing away any stresses and strains, without being too physical.
Treating yourself to a spa treatment is just as possible when you're pregnant as when you're not. Whether you want a single treatment or several, there are plenty of options available. In fact, many spas offer special days purely for mums-to-be, where you can go along for a whole or half a day, and indulge in treatments especially designed for pregnancy.
So, why not treat yourself to a spa treatment and give your body some much needed pampering?
You might also like...