What Are The Ante-Natal Tests For?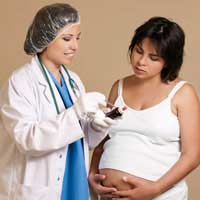 During the antenatal period you'll be offered a number of tests, aptly referred to as antenatal tests. With each focusing on a different element, they can seem bewildering, so what exactly are they and are they all safe to have done?
Antenatal tests are designed to offer reassurance to you that your baby is okay, growing and developing well. They also help play a crucial role in confirming whether your baby has any congenital abnormalities, such as spina bifida or, or a genetic condition, such as Down's syndrome. They're not compulsory to have, but they could help put your mind at rest, especially if you're at all anxious about your pregnancy, you've previously experienced problems or there's a history of certain conditions in your family.
The types of antenatal tests fall into two categories - diagnostic and screening. Diagnostic tests are used to confirm whether the baby has a congenital abnormality or genetic condition. Screening tests are used to assess the baby's risk of having a condition such as Down's syndrome or spina bifida, but it can't determine for sure if the baby is affected.
The Main Tests Are:
Chorionic villus sampling, a diagnostic test for genetic abnormalities, such as Down's syndrome.
Nuchal Translucency Test, a screening test for Down's syndrome.
Amniocentesis, a diagnostic test for genetic abnormalities and congenital abnormalities.
Various blood tests. Tests such as the Alphafeto Protein Test screens for spina bifida, whereas the double, triple and quadruple tests screen for Down's syndrome.
Ultrasounds, which can be screening or diagnostic and can identify things at different stages of the pregnancy.
Most of the tests are carried out between 10 and 20 weeks of your pregnancy, although ultrasounds are carried out throughout your pregnancy.
Are Antenatal Tests Safe?
Antenatal tests are designed to put your mind at rest but, as with any test, there are very small risks associated with some of them. It's not compulsory to have the tests carried out and it's important to think carefully about whether you want to have them done or how you feel about the risks.
The tests with tiny risks associated with them are the Chorionic Villus Sampling and amniocentesis. Ultrasounds, blood tests and the nuchal translucency tests don't have any known safety issues.
With Chorionic Villus Sampling (CVS) there's a tiny - 0.5% - 2% - chance of suffering a miscarriage. This is because the test involves having a very fine needle inserted into your abdomen, so that a tiny piece of placenta can be removed for testing. You're within your rights to ask in advance at the hospital what their miscarriage rate following CVS is, as it varies slightly from place to place. If you're not happy with the rate or are at all unsure, you can go to another hospital to have the test done.
In the case of amniocentesis, there's a small - 0.5% - 2% - risk that you might miscarry after the test is done. Like CVS, the test involves having a long needle inserted into your abdomen and amniotic fluid is drawn off for testing. To reduce the risk of miscarriage, you're advised to rest at home for two days after having the procedure - especially if you've suffered a miscarriage in the past.
If you're unsure about whether you should have antenatal tests, or want more information about what's involved, talk to your doctor, midwife or another health professional. Above all, remember it's your decision.
You might also like...