Ultrasounds - What is EFBW and GMS?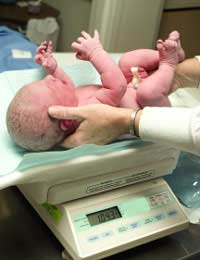 Q.I am almost 5 months pregnant and recently I had an ultrasound which shows an EFBW of 323 GMS. What does this mean?
(Mrs Sheena Ahmed, 22 December 2008)

A.
Thanks for your question and congratulations on your pregnancy. During pregnancy, a number of ultrasounds and scans are carried out to monitor how the pregnancy is growing and the growth of your baby in the womb. Ultrasounds are painless and safe, so it's an ideal method of scanning for pregnancy.
It's standard practice for ultrasounds to be carried out at the stages of three months and five months into pregnancy. Many hospitals provide women with a printed copy of the scan to take home afterwards – often they very clearly show your baby, although other times they could be facing the wrong way, have a limb crossed or be obscuring the face somehow! It's a bit hit and miss when photographing babies in the womb like this, but it's a lovely memento to take home. At the bottom of the scan there are various printed letters and numbers, including EFBW and GMS.
Although it may seem like a slightly strange acronym, EFBW actually stands for Estimated Fetal Birth Weight – or the weight that your baby could be when he or she is born. The second part, in your case 323 GMS, stands for the estimated weight – i.e. 323 grams.
The meaning of this acronym should have been explained to you at the scan (remember, if you are unsure about anything, it's always fine to ask – although it's easy to forget at the time and only think of things later on). The estimated weight is also often given out to mums, although it's usually given in the form of pounds and ounces rather than grams. Pounds and ounces is the form of measurement that babies are traditionally weighed in and it's what most people can understand in terms of baby weight. It's worth bearing in mind, though, that this is very much an estimate at this stage, as the actual weight can vary considerably. In fact, it can vary by about 25%.
Due to the variation in actual birth weight, not all hospitals do give out details of the estimated birth weight, which is why you may not have been told what EBFW meant. During the next few months, your baby will be increasing in size and continuing to grow and develop in a variety of ways.
Good Luck With The Rest Of Your Pregnancy!
You might also like...
My result EFBW is 3065 +/-459 gms what it means....what is exactly weight is the baby
Roja
- 29-Apr-18 @ 7:43 AM
I am 31 week 3 day pregnantmy efbw:1669+/-244.please give me details
Bis
- 24-Apr-18 @ 3:34 PM
My ultrasoundreport mention 133GMS approximately. Please tell me my baby is healthy weight and complete details.
Golu
- 3-Apr-18 @ 10:35 AM
fetal weight in scanning of 34 weeks is 2474+/-361 GMs is it good status
rajee
- 3-Mar-18 @ 7:59 AM
my wife 20wks pregnancy'scan shows EFBWT 385gm, plz tell me its normal wt
shahnefo
- 5-Feb-18 @ 11:10 AM
I'm 26 weeks pregnant and my EFBW Is 975. Is it normal?? Plzz. Help me.. and also my ultrasound shown a cord around d neck.. is it normal.. plzz tell me..
Iru
- 11-Dec-17 @ 2:46 PM
I am 36 weeks pregnant I had colour Doppler test it shows EFBW equal to 2170 GM's kindly advice
Swathi
- 7-Dec-17 @ 6:15 AM
I am at 38 W 5 Days...I had an Ultra sSound Scan today, EFBW -3384g I wish to know does this is the current weight or appx weight at delivery.?!
Reji
- 16-Nov-17 @ 9:33 AM
I am 18 weeks paregnancy and my EFBW is 265 grams is healthy baby weight is it normal plz tell me all the details plz
I am 35week 3 days pragnent and my EFBW is showing 2712 +/- 407 gm .is it normal or not ? pls tell me about this query. And doctor tell me final date 29/11/2017 +/- 2 weeks.
Moni
- 30-Oct-17 @ 2:14 AM
Iam 34weeks 1day pregnant my efbw :1833+/-268 .please give me details it is normal or any problem my doctor saying its little risk to delivery ..
anju
- 27-Sep-17 @ 7:32 AM
I am 35weeks pregnent... My efbw is 2584 +-388g.is it normal.... Or not... Is there any tension..... Any confusion...I scared.....Please please please tell me ..... I am tensed about this.... Please give me answer....
tani
- 30-Aug-17 @ 10:09 AM
I am 36weekpregnent... My efbw is 2496g +-362g.is it normal.... Or not... Is there any tension..... Any confusion...I scared.....Please please please tell me ..... I am tensed about this.... Please give me answer....
Shivu
- 17-Jun-17 @ 2:46 PM
I'm 33 week 2 day pregnant and my E.F.B.W is showing on ultrasound 1885 + - 400gms . Tell me clearly on detail plz
Renu
- 16-Apr-17 @ 2:49 AM
I am 16 week pregnant and my E.F.B.W is showing on ultrasound 136 gms .tell me clearly on details please.
supriya
- 10-Apr-17 @ 8:59 AM
Hi m 35 week pregnantn my ultrasoundshown a single loop of cord aroundthe neck at the time of scan.. Is it normal plz help me
kanchu
- 28-Jan-17 @ 12:47 PM
I went for a scan few weeks back. It revealed EFBW 2132 GMS (+/- 319) with a 33 week 2 days (+/- 1week) baby. Is my baby normal? Am i going to deliver normaly? Kindly reply... Regards... Raman
raman
- 16-Dec-16 @ 10:46 AM
I 'M 35 week and 5 days pregant and my EFBW 2561gms+/_374 gsm plea tell memy baby born normal ples answer l very tension in this metter
Sonu
- 14-Nov-16 @ 1:48 PM
I am 39w2d and my efbw is 3,905 grams please is it normal please tell me all the details...if I deliver a normal labor
lyn
- 29-Oct-16 @ 8:02 AM
I'm37w4dpregnant and my E.F.W is showing 3157gms.tell me clearly on details plz
rinky
- 23-Sep-16 @ 4:45 PM
I am 34 weeks pregnent my EFBW is 2574 +/- 16% . Pls tell me clearly indetails It is normal or any problem?
Priya
- 20-Sep-16 @ 3:56 PM
I am 34 weeks pregnant my EFBW is 2433 grams +/- 360 grams. . I am scared already does it mean my baby could be 2.4 kilo?
Khaye khaye
- 17-Jun-16 @ 4:51 PM
I am pregnant 13. 4 days and mh EFBW is 74 gms is it normal and my FL AC is 14% is it normal plz answer i am very tensed about this
Ruby
- 16-Mar-16 @ 3:47 PM
I'm 33 week 2 day pregnant and my E.F.B.W is showing on ultrasound 2639 gms . Tell me clearly on detail plz
jasmeen
- 26-Sep-14 @ 3:35 PM