Baby's First Steps: Learning to Walk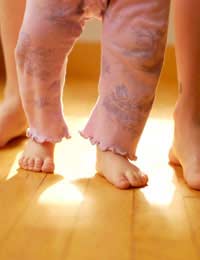 Watching their baby take those first few unsteady steps is probably one of a parent's proudest moments. While most parents look forward to that day and try to encourage their baby's efforts at mobility, many wonder when their child will begin walking. The answer is simple - babies walk when they are ready, and not a moment sooner.
From Crawler to Walker
Healthy, active babies find many ways to move about a room. Some roll, some shuffle, some are content to crawl long after their peers are running, and some are up on their feet and walking just when the baby books advise mum and dad that they can expect those first steps. As long as your baby is making progress, there is probably no cause for concern, even if they are slower than expected in getting up and about.
When Should Your Baby Walk?
If you read an assortment of baby books, they will likely tell you that babies take their first steps at approximately 12-14 months. In reality, however, your baby may be a proficient walker at nine months or may not take a single step until 16 months (or even later). Neither scenario indicates a problem, merely a natural developmental difference.
Premature babies will typically take a bit longer to reach developmental milestones, walking included. Most doctors advise using a premature baby's due date, rather than their date of birth, in looking for milestones to be achieved. For example, if your baby was born five weeks early, you can expect a five week delay in reaching milestones such as rolling over, crawling, and walking.
Steps Toward That First Step
Babies develop physical abilities so quickly during their first year that parents are often amazed at the rapid transformation. While each step along the way is a milestone in itself, many of those first achievements are helping to prepare babies to walk. Holding their heads steadily, rolling over, finding the ability to rest on all fours, crawling, and reaching for furniture to pull themselves up to a standing position are all predecessors to walking. Each of those abilities helps to strengthen a baby's muscles and increases their confidence -- both traits that are necessary for walking.
Encouraging First Steps
While there isn't much that you can do to alter your baby's natural timetable, there are a few things that may help ready your baby for walking. Be sure to provide plenty of active play time to encourage the healthy development of muscle tone and coordination. Also, most experts agree that barefoot is best when learning to walk. Years ago, parents were encouraged to purchase "walking shoes" for babies, but now we know that babies do best when allowed to walk sans shoes.
Babies are social beings and enjoy positive interaction with their parents and other caregivers, so be sure to engage your baby, both physically and intellectually, in order to help them to reach their highest potential.
Baby Bravery
Experienced parents will tell you that some babies forge through their developmental milestones fearlessly, while others are naturally a bit cautious. Sometimes, the difference between an early walker and one who waits a few more weeks (or months!) is simply a matter of caution level. Parents can help their babies to gain confidence by walking behind them and holding both of the baby's hands in the beginning. Most babies enjoy exploring their environment in this new, upright way, and will walk with a parent until mum or dad is suffering from an aching back!
Worried About Baby Taking First Steps
While books and baby experts can offer loads of advice, you know your baby better than anyone. If you are worried about your baby's developmental status, schedule a check up with the doctor. You can take that opportunity to discuss your concerns with the doctor and get individualised feedback. While there is usually no cause for parental worries, checking with the paediatrician not only eases a parent's fears, but in cases where there is a legitimate developmental delay, early intervention is always best.
You might also like...