Choosing a Bank Account for You and Your Children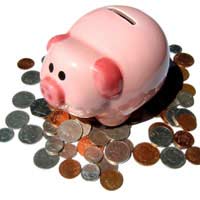 Banks can no longer rely on our customer loyalty due to the vast increase in the different types of accounts that are now available to us, both conventionally and via the internet. They're all competing for our business and it's important that we don't rest on our laurels and that we put in some time for research and make the comparisons to ensure that our choice of bank meets our own and our family's needs. After all, any savings we can make are better in our family's pockets than in the pockets of the banks' shareholders.
APR Rates and Fees
The typical APR rates represent the amount of interest that will be applied to any money we borrow and any savings we're able to make and it's important to get the best deal on both. Remember though that the 'typical' rate is the rate that has to be offered to 66.6% of customers so if you fall into the other '1 in 3' category, you may find that the great deal isn't as great as you originally thought.
Over recent times, there has been a move towards some financial institutions charging us a fee for this and a fee for that, even when we are in credit. So, it's important to choose a bank which keeps their fees to a minimum and are fair and transparent in their charges guidelines.
And, if you have any savings or investments, including investments you've made on behalf of your children, you'll need to compare banks to ensure you're getting the best returns on your investments.
Features
As a family, you and your partner might very well hold joint accounts in addition to having your own individual accounts. You may also have children who all have their own individual accounts too. Therefore, there may be occasion when you need to make large transfers between one account and another. You may also need to write out cheques occasionally for things such as nursery fees or for school trips, for example. Some accounts will have better rates for different features so you need to find out which bank has the best rates for the kinds of features that are most important to you.
Online Banking
If you and your family have several accounts between you, it may be useful to choose a bank which has an online banking facility. Most of the leading banks do these days and it's useful for quickly transferring money to other accounts within the same bank. For example, you may have little cash on you and your child needs to borrow £20 for an unplanned night out. Online banking can quickly allow you to transfer money from your bank to theirs, saving you the need to dash out to the nearest ATM.
Online banks are also convenient to set up and monitor things such as direct debits, standing orders and bill payments. A regular check on your bank accounts online will ensure that you don't overstretch your budgeting and that you're keeping within the terms of any authorised overdrafts you may have and it's a good way to teach your children all about financial management. Remember to all adhere to online security with regards to passwords, usernames etc. however.
Savings Accounts for Children
There are many gimmicks that banks will use to try to market their accounts specifically for children. They'll try and entice you to join them by giving away lots of freebies. However, you should always bear in mind it's the rate of interest that's important to you.
Location
With online banking become increasingly popular and the fact that we can draw money out of our accounts free of charge from most other bank's ATM machines, the geographic location of your bank seems to be of less and less significance these days. However, if you live in a remote location where there are few ATMs or you get paid by cheque frequently, which is still quite common amongst the self-employed, you may also want to consider choosing a bank which has a branch close to where you live. It's important to remember that those little in-store ATMs and even some banks will charge you for using their ATM machine.
Having to post a cheque to your bank means it takes longer to clear so your family might be relying on funds that take longer to arrive in your account which could affect things such as direct debits, standing orders and yes, even pocket money!
You might also like...