Baby Monitor Facts and Features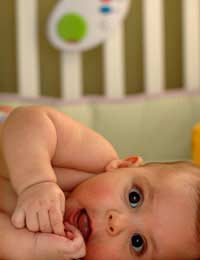 Parents often find comfort in being able to know that their baby has woken and needs to be fed or changed. A few generations ago, mums would listen carefully outside the nursery door in order to keep tabs on what their babies were doing, and check often in case of the possibility of cot death, but today's parents can listen for their baby to stir from anywhere in the house or garden, thanks to baby monitors - and even watch them with baby video monitors.
Basic Features of Baby Monitors
Busy parents often take advantage of baby's nap time to complete a few household chores. It can be very helpful to place a baby monitor in the nursery and have constant access to your baby's activities without constantly checking to see if they are awake.
Baby monitors vary quite a bit, from very basic to a few with all of the bells and whistles. Even the most fundamental models of baby monitor typically provide parents with two options for monitoring the nursery - lights and sounds. Most receivers offer volume control that scales all the way down to silent, allowing parents to be alerted to their baby's cries by a series of lights. Usually, the lights operate in a series so that parents and other caregivers will know whether the baby is cooing quietly or wailing loudly.
Some baby monitors come with one portable receiver, while others include two. The simplest monitors have a fairly short range, but are usually sufficient for a small house or flat. Those who need to cover a wider area need to upgrade to a more deluxe model.
What About Video Baby Monitors?
Parents often credit baby monitors with giving them an extra set of ears to hear their baby's sounds and movements. Some monitors go beyond sound though, and provide video surveillance of the nursery, acting as an extra set of eyes, too. Baby video monitors are easy to set up and allow parents to view their baby (and later, their mischievous toddler!) from another area in the house without disturbing the baby's sleep. Baby video monitors are surprisingly affordable and available at a wide variety of merchandisers, both online and in brick and mortar stores.
For Safety's Sake
In addition to those that alert parents only to a baby's cries or baby video monitors, there are some baby monitors that make parents aware if their baby doesn't move around. This can be especially useful for parents of premature babies and others who may be at an increased risk of cot death (SIDS). These movement monitors are installed in a pad that is placed under the baby's cot sheet and after a set amount of time (20 seconds seems to be standard) that the baby doesn't move at all, an alarm sounds over the portable receiver, letting parents know that there may be a problem, and they can ease fears of cot death.
Choosing a Baby Monitor
Baby monitors are an item often found on the wish lists of expectant parents. Prices and features vary considerably from model to model, so a bit of comparison shopping is prudent. While it is important to choose a model, whether it's a regular baby monitor or a baby video monitor that offers sufficient range and other desired features, buying more than you need is just a waste of money. Consider the size of your home and the situations that you will be likely to use the monitor before making your selection. Your wallet will thank you.
You might also like...