Baby Bedding and Sleepwear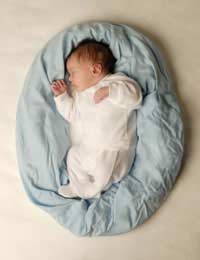 Getting baby ready for bed can be the most relaxing part of the day. A warm bath, a story, a little time to snuggle and maybe a soft lullaby - all components to help baby drift off to sleep. Comfortable pyjamas are important too and parents must choose which types of sleepwear and bed clothing that they prefer for their babies.
Flame Retardant Sleepsuits
While some parents wouldn't consider tucking their babies into bed without flame retardant sleepwear, others don't hold those garments in high regard. The most common reason among those who choose not to purchase flame retardant garments, is an uneasiness with the chemicals used. It is easy to see the logic on both sides of this argument and this will be just one of many choices that parents must make throughout the years regarding the care of their children.
Whether choosing sleepwear that is flame retardant or not, there are some guidelines to consider when choosing pyjamas for babies. Most experts recommend dressing babies and children in close fitting bed clothing, rather than loose gowns. The reasoning is that if kids are near a flame source such as a fireplace or a parent who smokes, the chances of fabric catching on fire are less if they are close to the child's body than if there is excess fabric flowing.
Decreasing the Risk of Cot Death
Parents of babies are routinely advised to remove soft blankets and stuffed toys from a baby's cot to minimise the chances of cot death. For the same reason, babies should be put to bed only in garments that are designed so that the fabric cannot shift and cover the baby's face or head. Baby sleeping sacks are good choices, as are close fitting one or two piece pyjamas. Be sure to choose lightweight fabrics in warm weather and warmer garments for chilly nights. Babies should be kept comfortable and warm while sleeping, but should not be allowed to overheat. Choose clothing that is comparable in warmth to what you would be comfortable wearing and your baby will be appropriately dressed for sleep.
Alternate Sleepwear Choices
Baby shops and other retailers sell a nice variety of pyjamas for babies, but some parents find that their babies sleep well in garments not specifically designed as bed clothing. Cotton tee shirts and leggings, sweat suits and one piece rompers are frequently used as baby sleepwear. Some babies seem to sleep best when their feet are covered, so when not choosing footed pyjamas, a pair of soft socks will work well. There are no hard and fast rules; simply dress your baby in comfortable, well-fitting clothing for safe and restful sleep.
The Cute Factor
No question about it, there are few things more adorable that a baby all snuggled up in their pyjamas. The rubber ducks, tiny butterflies, storybook characters and farm animals that adorn the pyjamas of babies can make them hard to resist when shopping for baby clothes. As long as you choose sleepwear that is properly sized and weather appropriate, enjoy dressing your baby in sweet jammies. They are not that little for long!
You might also like...