Car Travel During Pregnancy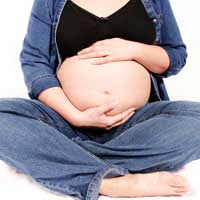 Many women prefer travelling by car when they're pregnant as they have more control than using public transport. You can decide when you need to stop for a rest or toilet break there's more room for all your bits and pieces and it's not noisy and crowded. But there may be issues you're worried about, like how to comfortably wear your seat belt, whether it's safe to be near airbags and whether you should drive.
How To Wear A Seatbelt
It's a common worry during pregnancy that if you wear a seatbelt it might put too much pressure on your stomach and your baby, especially if an accident occurs. But studies have found that it's safer for both mum and baby if you do wear a seatbelt and is much more dangerous to not wear one at all. Plus, pregnant women aren't exempt from seat belt legislation, so you'd be breaking the law if you don't use a belt.
For your ultimate comfort and the safety of your baby, always have the lap belt lying snugly under your bump and across your pelvis. The shoulder belt should fit snugly over the top of your bump and between your breasts. It may be tempting to push the belt down and wear it across your stomach, but this is highly unadvisable, especially as a sudden jolt could cause your placenta to separate from the uterus.
Is It Safe To Drive Whilst Pregnant?
For the large majority of the time during pregnancy there's absolutely no reason why you can't carry on driving as normal. The only thing you're likely to have to do differently is stop regularly for extra toilet trips or breaks to stretch your legs if you're driving a long way.
By the time you reach the latter stages of your pregnancy, your growing bump may pose a bit of a problem though. If your bump has got huge, it's likely to be very close to the steering wheel, which isn't comfortable. So at this stage, it may be preferable to get your partner to drive instead – and you can sit back and enjoy being driven.
Are Car Airbags Safe?
Many cars these days are fitted with airbags, which spring out automatically if an accident occurs. It is safe to be near airbags whilst you're pregnant, but if they are fitted in the car, it's advisable to move your seat well back from the steering wheel or dashboard. Sometimes steering wheels are adjustable and tilting them downward, so they're further away from your stomach, can help. It's also crucial to ensure you're wearing your seatbelt correctly.
Tips For A Safe And Comfortable Journey
Sitting for long periods of time in a car isn't great for pregnant women. Here are some tips to help you have comfortable, enjoyable and safe journeys.
Feet and ankles are prone to swelling in pregnancy and can be worsened by sitting still for too long. Take regular breaks to stretch your legs and get your blood flowing. Alternatively, whilst you're a passenger in the car you can gently move your feet around, rotating your ankles and wiggling your toes.
Carry a bottle of water with you and drink it regularly to prevent dehydration. Remember to stop for regular toilet breaks!
If you're suffering from morning sickness, you may feel nauseous in the car. Try sucking on crystallized ginger, as it's a great natural remedy for nausea.
Avoid travelling alone, especially in the later stages of pregnancy.
If you're suffering from pregnancy-related backache, try putting a small pillow or rolled-up towel in the small of your back.
Ensure you're enrolled with a breakdown service in case of emergencies.
Always carry a mobile phone with you.
As long as you're sensible and heed the advice above, car journeys should be fine during pregnancy, for you and your unborn baby.
You might also like...
@fifi. You should really consult your GP about this.
BabyAndPregnancy
- 9-Jul-15 @ 11:39 AM
i am 10 weeks pregnant. I'd like to know whether you would advise travel to an area where tick-borne encephalitis is know to be endemic. i am not vaccinated. thanks
fifi
- 6-Jul-15 @ 9:25 AM
Do you mean go-karting? If yes, it is advisable to avoid this activity until after the birth, because of the risks of impact with another vehicle or crashing. Some go-karting tracks do not allow pregnant women to partake anyway.
BabyAndPregnancy
- 12-Aug-11 @ 12:12 PM
How safe are game drives in the 13th week of preganancy?
Chaos
- 12-Aug-11 @ 11:51 AM