Gestational Diabetes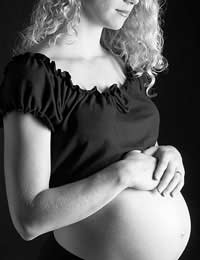 Women who've never previously been affected by diabetes can develop a form called gestational diabetes whilst they're pregnant. But what exactly is it and why does it happen?
Insulin is a hormone that helps the body break down sugar – or glucose – so that it can be used as energy. During pregnancy gestational diabetes develops when women aren't able to produce enough insulin. When this lack of insulin occurs, the level of sugar in the blood rises. This isn't good for the mother, but it's also a problem for the baby, as high blood sugar levels are passed through the placenta.
Up to 4% of women are affected by gestational diabetes (which is also known sometimes as pregnancy diabetes). The exact cause is unclear, but it's thought to be due pregnancy hormones, which block the usual action of insulin. It's more likely to occur in people who are over 35, smoke, have a family history of diabetes, are overweight or are from a minority ethnic group.
Unlike other forms of diabetes, in the majority of cases people don't know they've got it until a urine screening test picks up high sugar levels. This then has to be followed up by a glucose tolerance test to confirm that gestational diabetes is in force. Unlike other forms of diabetes, it's rare to get the classic symptoms like a frequent need to urinate and excessive thirstiness. Gestational diabetes doesn't usually begin until the second half of pregnancy and, once the baby is born, it goes away. Again, this is vastly different to the usual forms of diabetes, which you have permanently and for life.
Effects of Gestational Diabetes
Gestational diabetes can have a range of effects on mum and baby, both before and after the birth. For mums, the most common effect is high blood pressure, plus they're also at a higher risk of developing type 2 diabetes later in life and of having gestational diabetes in any subsequent pregnancies. For babies, the potential effects include:
Increased growth. This can cause difficulties during the birth and a caesarean section may be required.
Low blood sugar – hypoglycaemia – after the birth.
Jaundice after birth.
Increased risk of being born with congenital problems, such as heart problems or respiratory disease.
Increased risk of developing type 2 diabetes later in life, or being overweight as they get older.
An increased risk of being stillborn.
Treatment
Controlling blood sugar levels is crucial and, for most women with gestational diabetes, this will involve regular tests to determine blood sugar levels. It's also important to pay attention to your diet and exercise, by eating regular meals (but not a low fat diet, as this isn't recommended in pregnancy), reducing your salt intake, eating plenty of fruits and vegetables and doing more low-impact forms of exercise (such as swimming, yoga or walking). For most women, taking such lifestyle steps will help keep the problem at bay, but in some cases where blood sugar levels won't go down, daily insulin injections may be necessary. Circumstances inevitably differ and your doctor will be able to advise on the best course of action for you.
The good news is that, in the majority of instances, gestational diabetes goes soon after you've given birth, so if you are affected during pregnancy, there's an end in sight!
You might also like...