Pelvic Floor and Other Antenatal Exercises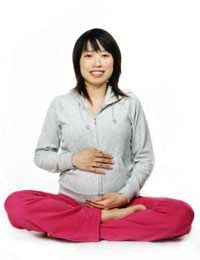 Being physically fit and in good shape can help your body cope with the demands of pregnancy and especially giving birth. Whether you were fit already or need to strengthen your muscles now, pelvic floor and other antenatal exercises are the way to go.
Pelvic Floor Exercises
The pelvic floor muscles form the base of our pelvis. When strong and working properly they play an important abdominal role in helping prevent stress incontinence, so when we laugh, cough, sneeze or lift something up no urine or faeces accidentally escapes, and in preventing prolapse, where the uterus slips down into the vagina.
Exercising your pelvic floor muscles during pregnancy is beneficial for when you're giving birth, as toned muscles will be easier to relax and control. After you've given birth exercising them can help too, especially with relieving perineal pain, and paying attention to them at any point in life is good too, as it can help prevent problems such as incontinence.
If you're not entirely sure where your pelvic floor muscles are, try this:
Sit on a chair with your feet flat on the ground.
Tighten the muscles around your vagina, then relax them. If you're tightening your buttock muscles, your body will lift a bit – this is wrong and your pelvic floor muscles aren't here!
Try it again and hold for a count of four before relaxing.
If you're still not sure where your muscles are, try repeating the exercise when you're on the loo. When you get to midstream whilst weeing, try holding in your muscles. If you're doing the right thing, this will stop your wee. It's fine to do this occasionally, but avoid this particular method too often, as it could increase the chance of a urinary infection.
Now you know where your pelvic floor muscles are, make time to regularly practice holding your muscles in for four counts at a time, breathing normally as you do so.
Other Antenatal Exercises
If you attend antenatal classes (and it's advisable that you should, especially when having your first baby) your antenatal instructor will suggest a number of other exercises you can do to help prepare your body and muscles for the birth experience. Some of these may include tummy strengthening exercises, which do just what the name suggests.
Whilst you're pregnant, your abdominal muscles get longer and bigger in order to accommodate your growing baby. If you gently exercise these muscles, it can help reduce the chance of you ending up with an aching back or ribcage, plus it can help you tone up and get back into shape more easily after you've had your baby.
The abdominal muscles are made up of four different layers and it's important to ensure you work them all, especially the transversus muscle, which is the deepest layer. Here's a simple way of exercising this crucial muscle:
Get down onto the floor on all fours.
Slowly pull your tummy button in towards your spine, without moving your back or tilting your pelvis.
If you're not sure if you're moving your back or pelvis, get your partner involved and ask them to check that nothing is moving or tilting.
As you do the exercise, keep breathing normally.
Keep repeating the exercise, holding your tummy muscles in for a few seconds each time. Repeat for six to eight times, then stop.
Regular practice is recommended and you'll reap the benefits in labour, and after you've given birth.
You might also like...