What Exercise is Safe During Pregnancy?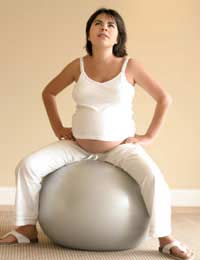 Being pregnant doesn't mean stopping exercising. On the contrary exercise is very beneficial during pregnancy and being in a good state of physical health and fitness can significantly improve your labour experience. Of course, not every form of sport or exercise is safe to do when you're pregnant, but many forms are. Most women will gain benefits, as long as you've not been advised against exercise (e.g. due to a medical condition) by your doctor.
Yoga and Pilates
These two gentle forms of exercise are great for pregnant women, especially as they include work on your muscles and can improve your suppleness. The relaxation and breathing elements of classes can offer insight and help for labour, and both practices also promote concentration. There are many classes specialising in antenatal yoga or Pilates and, if you've never done either exercise before, it's definitely advisable to go to a specially run class.
Swimming When Pregnant
Swimming is great for pregnant women, as the water is very supportive for your bump, supporting your weight whilst helping your back. As well as your muscles, it can give your heart and lungs an effective and gentle workout and improve your stamina. Many places throughout the UK offer aqua-natal classes, involving all sorts of gentle exercise or swimming in the water, or you can attend a local pool on your own or with friends. If you're unsure of what's on offer in your area, ask your midwife for details of any classes.
Gentle Exercise - Walking
Walking is a great form of gentle exercise and won't involve any costs. It's also an ideal way of getting outside and benefiting from some fresh air. If you're not fond of walking around on your own, try and rope in a friend or partner for a regular walk. Or why not combine walking with a visit to the shops? Walking is fine at any time of your pregnancy, but it comes into its own as being the ideal choice during the third trimester, when your added weight gain and change in size often prevents you from doing other forms of exercise.
Stretching Exercises
Stretching exercises come highly recommended. They're non-strenuous, can help tone up your body and can help your posture, plus they're great for teaching you the best ways to bend, stand and sit whilst carrying your baby. It's important not to over-stretch the muscles, especially during the late stages of pregnancy, so it's best to take advice from your antenatal instructor as to which exercises to do and when.
Exercises to Avoid
Not everything is ideal for pregnancy and you're advised to avoid several forms of exercise, including the following:
Mountaineering
Rock Climbing
Scuba diving
Downhill skiing
Diving
Water skiing
Gymnastics
Netball
Hockey
Trampolining
Horseriding
Cycling (after the second trimester)
If you're unsure about the safety of any other form of exercise, or have an existing medical condition, always seek the opinion of your doctor or midwife.
General Exercise Advice
Pregnancy isn't the time to start exercising frantically and if you've rarely exercised in the past, it's important not to over-do it now. As a general guideline, it's best to start slowly and build up gradually and keep a careful eye on how your body reacts. Drink plenty of water before, during and after exercising to keep yourself well hydrated. If you experience any unexpected effects, such as feeling faint, sick, dizzy, weak, very sweaty or have abdominal pain, see your doctor or midwife before doing any more exercise.
You might also like...