Special Care Babies and Neonatal Units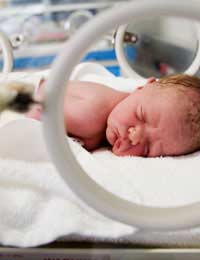 Between 6-10% of newborn babies are admitted to neonatal units in hospitals in the UK, either because they're born too soon, need medical care or have serious, life-threatening problems. If you're unsure what these units do, or why babies have to spend time in them, read on to discover the facts.
Neonatal Units
Hospital neonatal units specialise in caring for newborn babies who require special treatment (neonatal literally means newborn). There are various different levels of care provided within the unit – one of which is the Special Care Baby Unit (SCBU). The usual areas you'll find in a neonatal unit are:
Intensive Care or Neonatal Intensive Care (IC or NIC) – where the most seriously ill babies are cared for
High Dependency Care (HDC) – which looks after babies who are ill and need a lot of specialised care
Special Care Baby Unit (SCBU) – which looks after babies who are born prematurely, or those who are recovering from time in intensive care or the high dependency care unit
All neonatal units are designed to provide 24-hour care for newborn babies and are run by professional and well trained staff. Although most hospitals in the UK do have a neonatal unit, units in smaller hospitals don't always have the level of expert care that some newborn babies need. So in some cases, if your baby needs specialist treatment, it may be necessary for him to be transferred to a larger hospital with a better neonatal unit.
Having a baby in Intensive Care of the High Dependency Care areas of the neonatal unit can be very stressful and worrying for parents, as the last thing you expect when you've given birth is to have your baby whisked off and away from you.
However, even though your baby may need highly specialised care, you should be able to see them – even if you can't hold them for a while – and will be kept closely in touch with the care and treatment they are receiving. Depending on the unit, you may even be able to sleep next to, or close by, your baby.
Special Care Babies
The babies who need to be looked after in Special Care Baby Units are typically infants who are born prematurely. As they haven't reached full-term in their growth and development, premature infants need to be carefully monitored and looked after by expert nurses, doctors and paediatricians.
Premature babies are more vulnerable to picking up infections, plus they're also more susceptible to breathing problems, feeding problems, eye problems, heart conditions, jaundice and anaemia.
Although it can be hard for parents to see their baby wired up in an incubator, and stuck in a SCBU, it's by far the best place for premature babies to be and gives them the best start in life. With experts on hand, any potential health issues should be spotted quickly and dealt with appropriately.
Special care babies are usually placed in incubators to sleep, as they need to be kept warm and calm. Drips may be inserted into veins in order to deliver medication and fluids, and if a baby has feeding problems, they may be fed by a tube. All the monitors and wires can seem scary, but they're doing important jobs and monitoring your baby all the time; heart monitors, breathing monitors and ventilators are common, for example.
The size of the units will vary, but there may well be other babies and their families being cared for at the same time. Although you'll be able to visit your baby at any time, and the rest of your close family, it's not generally advised that other people visit, especially if they could be carrying germs.
More Advice About Premature Babies
For more information about premature babies, read our articles
Caring For A Premature Baby At Home
and
The Long Term Future For Premature Babies
.
You might also like...