Feeding Your Premature Baby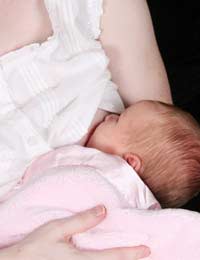 If your baby is born prematurely, then feeding issues may be a bit of a concern for you. Here we explore how you can typically feed your premature baby.
Premature babies are often very small in size and depending on how early they are born, need a lot of extra care to give them the best start in life. Ensuring they get fed well is important and they will typically be fed very frequently, as they will only be able to manage a small amount of feed at any one time. Depending how premature your baby is, there are various ways in which they may be fed.
Intravenous Feeding
Tiny premature babies who are born very early – those who weigh under 2lb 3oz – will need to be fed via an intravenous line that provides them with fluids. In the first instance, this feed will contain glucose and salts, then amino acids, vitamins, fats and minerals.
When your baby has improved a bit, and the medical experts feel he is ready, it will be possible to give him a few drops of your first milk – the colostrum – through the tube. The colostrum is important, as it can help produce the hormones which in turn help their digestive system to improve. Once your baby can properly digest milk and breathe without the help of a ventilator, then they will be moved on to feeding by tube.
Feeding Tubes
Feeding tubes are the second step of feeding for very tiny and unwell premature babies, but can also be the first step for premature infants who need a helping hand at first, and aren't yet able to drink milk properly on their own. For example, your baby may have feeding problems, such as: being unable to swallow properly; having breathing problems; haven't yet developed a sucking reflex or if they gag when fed.
A tube is inserted into their stomach and small amounts of breast milk are drip fed into the tube. Premature infants can't cope with large feeds, so they will be small and frequent.
In some cases, a syringe may be used to insert the milk into the tube, or even an electric pump may be used to get the milk down the tube.
Expressing Your Milk
When your baby is born prematurely, your milk supply may not immediately be ready, but the hospital will be able to help get your milk flowing, so that you can express milk to feed your baby.
The colostrum, the very first milk that your breasts produce, is packed full of vital nutrients and immune boosters and is important for your baby to have. It's creamy, yellowy in colour and helps prevent a baby from becoming jaundiced. Ideally, you should be encouraged to begin to express this colostrum within the first 24 hours after the arrival of your baby.
At first, it may be easier to express by hand, but as you'll then be encouraged to express more colostrum and milk regularly – it could be six to eight times a day – you may find it easier and more convenient to try using an electric breast pump.
If for any reason you're not able to express your milk, or it's not started flowing yet (and the stress of your baby being born too soon can affect this), then the hospital may well use donated breast milk instead.
Breastfeeding Your Premature Baby
As your baby improves and is able to come out of the incubator, there will be opportunities for him to get used to your breast and the idea of breast feeding. As a rough guide, babies usually need to weigh over 3lb 5oz to be able to breastfeed.
It may take time, but there is no reason why a premature baby shouldn't be able to eventually breastfeed well. In the first stages, it's beneficial not to use expressed milk in a bottle as it's better for your baby to learn the skills of sucking on the breast first.
You might also like...