Where Should Baby Sleep?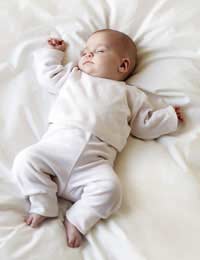 Where Should Baby Sleep?
Parents must make a variety of choices when it comes to the care and well-being of their children. One of the first decisions facing parents is choosing where their baby will sleep. There are several schools of thought on this topic, all with merits of their own.
Expert Opinions
While even the experts don't always agree on what are the best sleeping arrangements for babies, most do recommend that babies sleep in the same room as their parents for the first six months of life. Virtually all agree that babies should be placed on their backs to sleep.
When babies develop the ability to roll from their backs to their tummies independently, there is no need to return them to their backs, but they should still be placed "back down" when settling in for naps and at bedtime.
Another agreed upon notion is that cots and cribs should be free of pillows, stuffed toys, and other items that pose risks to babies in either overheating or suffocation. When choosing a cot make sure it complies with British safety regulations - check out this range at John Lewis for some examples. Since overheating is a known risk factor for cot death, cots should never be placed near radiators, heaters, fireplaces, or sunny windows.
Co-Sleeping
While some parents allow their babies to sleep in the family bed, many experts are uncomfortable with this practice. Sleeping in an adult bed with traditional bedding not only poses overheating and suffocation risks, there is also the chance that a small baby can suffocate if an adult accidentally rolls onto them when asleep. Even those who advocate co-sleeping list several cautions that parents must consider:
Parents must not be intoxicated or on any drugs, even those prescribed by a doctor
Care must be taken so that babies are not situated near the edge of the bed, risking a fall
Parents should be non-smokers
The headboard and footboard of the bed must not have openings or cut-outs that could trap a baby's head
The mattress must fit snugly into the bed frame so that a baby cannot get trapped between the mattress and the frame
In addition to the potential physical risks of co-sleeping, some opponents worry that by allowing babies to sleep in bed with their parents, they will not learn to relax and self-soothe, important steps in being able to sleep soundly once they are transitioned out of the parental bed. While choosing whether or not to implement the family bed is a choice that parents must make for themselves, there are many factors to consider, the most important being the safety of the baby.
Safe Sleeping
Parents are now advised to give babies a pacifier when laying them down to sleep, as this practice lowers the risk of cot death. It is not necessary to replace the pacifier if it falls out of the baby's mouth once they are asleep. The way that parents make up the cot can reduce risks to babies, too. The recommended method is to tuck the baby's blanket under the mattress, about half way down the cot. This makes it difficult for babies to get under the blanket any further than chest high, so they never get tangled in the blanket or have it up over their heads. An even safer alternative is to put babies to bed in blanket sleepers or sleep sacks on chilly nights, eliminating the need for any type of extra blankets at all.
You might also like...