Post Birth Checks and Visits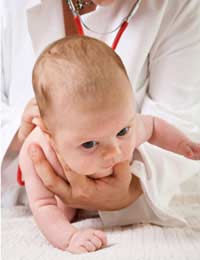 Care, support and help from health professionals doesn't stop abruptly after you give birth. In fact, there are more post birth checks and visits to ensure that both mum and baby are doing well. Here's an insight into what type of post-birth or postnatal care you can expect to receive.
Becoming a parent is a life-changing experience and, whether it's first baby or your fifth, you may be in need of support and help after giving birth. In the UK, part of the essential package of care for every woman who gives birth is a period of follow-up appointments by health visitors, plus various post-birth checks to ensure a woman's health is okay after the birth experience. This post-birth care is termed postnatal care, as opposed to antenatal care during pregnancy.
Health visitors are registered nurses who work alongside GPs and other medical professionals and they visit you at home, or you go and see them at your local GP surgery. They help provide support and advice at various stages of a child's life, but in particular between the ages of 0 and five years old. Check-ups and home visits from a health visitor are particularly concerned with monitoring the growth and development of your baby, plus they can provide help with practical issues, such as breastfeeding or ideas for establishing routines.
The First Visit From a Health Visitor
You may receive a visit from a community midwife the day after you go home with your baby and she/he will continue to visit daily or at other regular intervals until your baby is about two weeks old. In general, you can expect to receive your first visit from a health visitor when your baby is about 10 to 15 days old; if your baby is still in hospital at this stage, then it will be later, when he's first back at home.
You will need your baby's Personal Child Health Record book – or if you've not got one yet, your health visitor can supply you with one. This will serve as an important record throughout their early years of your child's health and development. During this first visit, the health visitor will fully examine your newborn baby, checking their weight, length, skin, hearing, vision, motor skills and reflexes.
You'll be asked how you're getting on, how feeding your baby is going, what their sleeping routine is like and how you're adjusting to new life as a mother. They'll also be plenty of opportunities for you to ask questions too.
Post-Natal Health Appointment
Most women have a post-natal health appointment with their GP about six to eight weeks after giving birth – and this can be linked in with a baby check-up too. The aim is to ensure that your health is okay after giving birth, but physically, mentally and emotionally.
If you had to have any stitches after giving birth, then everything will be checked to ensure it's all healing up well. Your GP may suggest some postnatal exercises you could do to help strengthen your stomach muscles and improve your posture and there should be opportunities to ask any questions you may have.
Further Health Visitor Appointments
Depending on your baby's weight and health, your health visitor may ask you to go to your local surgery to have your baby weighed each week, or on a regular basis. This is so they can keep monitoring your baby's growth.
By the age of eight weeks, the weekly weigh-ins may be cut down to every two weeks, and if they continue to grow well, then it may be reduced even further in due course. Another home visit will be made when your baby is six to eight weeks old.
You can expect another home visit at around eight months, plus check-ups and immunisations for your child when they're 18 to 24 months, three to three and half years old and before they start school at four and a half to five years of age.
You might also like...