Advice on Baby Changing Tables And Nappies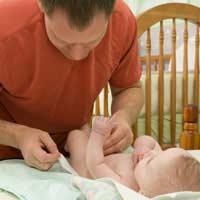 Babies often go through several outfits every day. At the very least, they use a good sized pile of nappies. This means that parents frequently find themselves bent over their baby, taking care of the changing duties. All of this bending may help to explain why so many parents complain of sore backs.
Back Saving Baby Changing Tables
Baby changing tables are popular purchases for new parents. In fact, many parents list the changing table as their single favourite piece of baby equipment. It allows parents to stand upright as they change and dress their babies, which, considering how much time parents spend doing those tasks, can make it your single most frequently used item.
Baby changing tables come in a wide range of styles, and the cost can vary considerably. Basic plastic changing tables aren't necessarily much to look at, but they tend to be quite affordable. Higher end tables are often part of a baby bedroom set and match perfectly with other items such as the cot, dressers, armoire, and bookshelves.
Most of these baby changing tables come with a few shelves underneath for storing nappies, baby wipes, diaper ointment, and a few sets of spare clothing. Some changing tables have doors that close to keep the items out of sight. All changing tables come with a safety strap, which should be used each and every time that you place your baby on the table. Babies can roll over quickly, even if you have never seen them do it before, and a fall from a changing table can cause serious injury. If you choose to buy a baby changing table, be sure to follow the manufacturer's instructions regarding safe usage.
Special Features of Baby Changing Tables
While the most basic baby changing tables will usually provide some storage space for nappy changing supplies, some offer a few added features. You can add a small clip on radio to help keep your baby occupied while you change them, or install a colourful mobile to distract them if they object to having their nappy changed. As babies grow, many have a hard time laying still for more than just a minute or two, so harried parents are often appreciative of anything on a changing table that buys them a bit of extra time.
About Nappies and More
When it comes to choosing the type of nappies that you will use on your baby, many parents have strong opinions. Some prefer cloth nappies while others opt for the disposable type. In either case, you will have changed literally thousands of nappies by the time your little one is potty trained, which can be a bit overwhelming to think about. While it can be tempting to choose the fanciest nappies on the market, the off brands are frequently just as effective. Before you break the bank on specialty nappies, consider for a moment their intended use...
Packaged baby wipes are a convenience that most parents appreciate. They are especially useful when out and about, but are nice to have at home, too. Unless your baby has extremely sensitive skin that precludes their use, unscented baby wipes are usually considered to be well worth the money.
Lotions and Potions
While keeping the baby's bottom clean and dry will help to avoid most sources of irritation, most babies will experience a rash at some point in time. Some parents believe in applying a thin coating of petroleum jelly or specialty baby nappy rash cream after each change. This practice can help to limit the chances of your baby developing a nappy rash by providing a moisture barrier, keeping baby's bottom dry and comfortable. In the event of a nappy rash, be sure to cleanse the area gently but completely and allow the skin to dry before coating it with a generous layer of nappy rash cream or ointment. When done consistently, the rash should clear within a few nappy changes. If it doesn't clear up readily, check with your GP as a prescription nappy cream may be needed. Some irritations are more than simple nappy rash and may be instead a yeast infection, which would require the use of an anti-fungal cream.
You might also like...