What Equipment You Need For Bathing Your Baby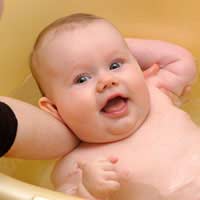 Giving your baby a bath can be a bit frightening at first, but you will soon get the hang of it. Having the right bath products can make the job much easier, and be sure to have everything gathered before you get started. While the only things required are warm water, gentle soap, shampoo, washcloth, and a towel, there are a number of other items that will come in handy.
Selecting A Baby Bath
Most expectant parents include a baby bath on their registry if they are having a baby shower. Baby baths are a great convenience, can be used on the kitchen countertop for small babies, and can even be placed in a full sized adult bathtub after that. Many varieties of baby baths are available and some of the nicer ones include an insert to aid in bathing very young babies. While babies should be given only sponge baths until the umbilical cord stump has fallen off (and in circumcised boys, until the penis has fully healed), they can safely be bathed in a few inches of warm water after that. Some parents find that bathing baby directly in the kitchen sink is the preferred method -- no special equipment to buy and the height of the counter is much easier on your back than leaning over the traditional bathtub.
Bath Seats and Bath Rings
Once your baby is able to sit unassisted, you may wish to purchase a bathtub seat or bath ring that can be placed in your full sized tub to help you hold baby in place at bath time. While many parents enjoy the "extra set of hands" that these products offer, they are absolutely not a substitution for adult supervision. Babies must be watched every minute that they are in the tub; drowning accidents can happen quickly and in a very small amount of water, so never leave your baby unattended in the tub, even for a moment.
When choosing a bath seat or bath ring, look for one with strong suction cups to help keep the seat in place. It is also a good idea to place the seat in the back part of the tub so that baby cannot reach the faucet. Babies are naturally curious and surprisingly quick, so you will have one less thing to worry about if you place them out of the reach of temptations. After each bath, remove the seat and dry it thoroughly to deter mold growth.
Soap, Shampoo, and other Baby Bath Products
Babies often have sensitive skin, so it is important to choose bath products that are extremely gentle. Ideally, soaps and shampoos will be free of perfumes and added scents. Several manufacturers are currently offering products that can be used on a baby's hair and body, eliminating the need for two separate products. While many parents enjoy applying oil, lotion, powder, and cream to their baby's skin (those things do smell fabulous!), most pediatricians agree that these baby bath products are unnecessary. While the other bath products mentioned are harmless, avoid using baby powder since inhalation of the powder can be dangerous for your baby. If you enjoy massaging a bit of lotion onto your baby's skin after bath time, feel free. Many babies find this experience to be very enjoyable and a gentle massage can help babies to wind down and be ready for sleep.
Tub Toys and Other Extras
Bath time can be lots of fun for babies, especially when they sense that their parents are enjoying themselves, too. Sing songs, make up silly baby bath time rhymes, and take advantage of this time together to play with some of the many tub toys available on the market today. Sponges in animal shapes, alphabet letters that cling to the tub, assorted cups for pouring water, coloured soap foams, and traditional rubber ducks can all make bath time fun. Some bath products can even help you to get babies who are not fond of bathing to relax and enjoy themselves. If your baby objects to having their hair washed (many do), consider buying a shampoo ring. This simple baby bath product foam device guides water away from baby's face as you rinse, making the experience easier for both of you.
Safety First
The most important things to remember when bathing your baby are all safety related. Stay with your baby -- hands on -- at all times and be careful not to let your baby slip under the water. Gather all of your baby bath products before beginning the bath and be sure to keep everything where you can easily reach it. Use water that is warm, but not hot as babies are very sensitive to heat. Finally, have a clean towel ready so that you can immediately wrap baby up nice and snuggly, right after being taken from the tub.
You might also like...