Bathing a Newborn Baby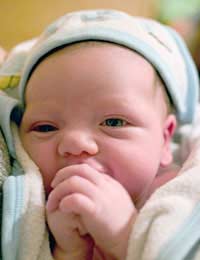 While bringing a newborn baby home from the hospital is a joyful time for parents, the first few days at home can be a bit unnerving. One of the responsibilities that can cause parents a lot of worry is bathing their babies. Babies will get their very first bath while still in the hospital by experienced hands, but once home, the baby is reliant on mum and dad. Bathing a newborn is really quite simple and once parents have completed that first at-home bath, they usually realise that all of their worry was unfounded.
Getting Ready
It's a good idea to gather all of the necessary supplies before giving your newborn a bath. A dish of warm water, gentle baby wash (if desired), a washcloth, two towels, baby wipes, a fresh nappy and a change of clothes should suffice. For circumcised boys, you will also need petroleum jelly and a gauze pad. Most paediatricians agree that newborns have no need for lotions or baby oil.
Most parents find that a table or kitchen counter are comfortable spots to give their newborns that first bath. This way there is no stooping or leaning, which makes it easy on your back. Once you have all the supplies assembled, you are ready to embark on your baby's first bath.
Words of Caution
Newborns babies don't really get very dirty. Other than the nappy area, the only mess that newborns produce may be from spitting up. For this reason, many paediatricians recommend cleaning newborns with only water, but a gentle baby wash is acceptable. Do not use soaps designed for adults, since they can be harsh and drying to a baby's delicate skin. In any case, newborn babies should be given sponge baths, rather than tub baths until the umbilical cord stump has fallen off and in circumcised boys, until the penis has completely healed.
Let's Get Started!
Take one of the dry towels, fold it and place it on the counter, making a nice, soft surface for your baby. Since newborn babies get chilled easily, be sure that the room is comfortably warm and then completely undress your baby.
Place the baby down on the folded towel, keeping one hand on the baby at all times. Begin gently washing your baby, beginning with the cleanest areas and saving the baby's bottom until last. Wring out the washcloth several times as you wipe your baby down, being sure to clean in baby's little creases behind their ears and in their neck folds.
When washing the genitals, be sure to clean from front to back in girls and don't be alarmed if your baby has a small amount of clear discharge. This is perfectly normal.
For uncircumcised boys, wash the penis gently without retracting the foreskin. In circumcised boys, the penis should be cleaned only with the alcohol swabs that you were likely given at the hospital until the circumcision has healed.
When you are finished, wrap your baby snugly in the second towel and redress your sweet-smelling little one.
Relax and Enjoy
Some babies love their bath times, while others are fearful at first. Most babies will relax and enjoy bath time once they realise that mum and dad are enjoying it too. If you can, have a helper on hand during that first bath to take a few photos. They will make a great addition to the baby's book!
You might also like...