Choosing a Crib or Cot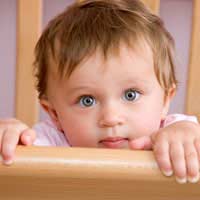 One of the first purchases that expectant parents usually make is a crib or cot. While it seems like a simple enough thing to buy, there are many factors to take into consideration.
Price Matters
Most families are on a budget, so the cost of the cot matters a great deal. They range from very affordable to quite extravagant, depending on quality, features, materials used, and style. While price must be taken into consideration, a poorly constructed cot is not only unsafe, but will not last, making it no bargain.
Cribs and cots are available from a wide variety of sources and it is a good idea to comparison shop before making your purchases. Often, the cost of the exact same product can vary considerably, depending on whether you shop at an upscale department store or a discount retailer. Bear in mind though that if you are not happy with your purchase, reputable companies like are more likely to replace or refund you without a quibble.
While it is easy to fall in love with an adorable piece of baby furniture, try to keep a level head when shopping. Moses Baskets are useful for only a few months at most, and your baby will be in their cot for just a couple of years. There are plenty of other expenses that you must consider, too, so try not to spend your entire nursery budget on a wildly expensive cot.
Features Can Make All the Difference
While some cots are designed only to accommodate a traditional baby mattress, others offer the ability to transition into a toddler bed and sometimes even a bed for an older child, as well. While such a bedding system may cost more than a standard cot, if you consider the long term usability, it just may be your best bet. If you do choose to make this type of purchase, be sure to buy full sized, rather than baby sized, dressers and other matching pieces so that you have all the bedroom furniture that your child will need.
Styling
For most families, simple styling is the most practical. Many families pass the cot along for use by several children, so a unisex design works best. While there is nothing wrong with buying a fancy cot painted with ribbons and ballerinas, it will mean either refinishing it or buying another if baby brother joins the family in a few years.
Safety Is The Most Important Factor
Well meaning friends and relatives are often willing to loan or give a baby cot that they have stored, but exercise caution before accepting their generosity. Safety standards have changed in recent years and no amount of money saved can make up for a tragedy caused by an outdated or recalled cot. A quick internet search will help you to determine whether or not a particular cot is part of a safety recall. Simply locate the brand name and model number on the cot and check to see that it safe before placing your baby in it. In addition to a possible recall, a safe cot must meet certain safety criteria, including:
In the UK, the recommendation is that spaces between bars or slats must be 45-65 mm, and less than 60 mm wide in the mattress base.
Corner posts are no higher than 1 1/2 mm.
No sharp edges, exposed hardware, or splintered wood.
Painted cribs must have no lead based paint.
All screws and bolts are present and tightly secured.
Mattress support is securely attached to the headboard and footboard.
Mattress fits snugly into the cot frame.
Drop-side latches are unreachable to children or are difficult to release, making them child-safe.
In addition to the safety of the cot itself, it is important to keep in mind that to minimise the risk of cot death (SIDS), you should never place pillows, comforters, soft blankets, or stuffed toys in the cot. The mattress should be firm (buy a new one, even if using a safe, but older cot) and the cot sheet must fit snugly. If you choose to use bumpers, be sure that they are tied on in a manner that allows for sufficient airflow.
You might also like...