Your Diet and Breast Milk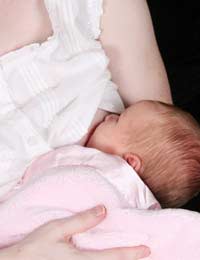 Breastfeeding offers babies a great start to life and provides them with plenty of nutrition and goodness. But in order for them to gain the best benefits, it's important that you maintain a healthy, balanced diet.
Why Try Breastfeeding?
It's great to give breastfeeding a go, as it ensures babies gain lots of essential nutrients and it helps bonding in the early days. But for mums, it can be a very demanding schedule to keep to and it can take its strain on your body and energy. That's one of the reasons why it's so important to ensure you consume a healthy, nutritious and balanced diet whilst you're breastfeeding, to ensure you're in a prime position to feed your baby.
In fact, you'll need an extra dose of calories, especially in the first few months of breastfeeding, to keep your energy levels up. The Department of Health recommend that women need between 450 and 570 extra calories in their diet during the first three months of breastfeeding. It sounds a lot, but when you've been through the birth experience and are getting used to coping with a baby and their breastfeeding demands, you'll be glad of any source of extra energy.
Despite the extra calories, it's definitely worth remembering that breastfeeding can be one of the best ways of regaining your pre-baby shape and body size!
It's also worth noting that what you consume can affect your breast milk supplies. Anything you eat and drink passes into your breast milk supply – although it's generally only a small amount of what you consume. But different foods and substances can and do affect breast milk, so you do need to be a bit careful with what you have.
What You Eat Affects Breast Milk
There are sometimes signs to pick up on that perhaps something you've consumed has gone through to your breast milk and not agreed with your baby. For example, if they become very restless, have a lot of wind, sudden diarrhoea or a rash, then this may be a sign that something you've eaten has gone through to the breast milk and they've picked up on it.
The symptoms in a baby can appear minutes or hours afterwards. If you're concerned about them, then always speak to a doctor – especially as diarrhoea and a rash can also be signs of an allergic reaction.
What to Eat and Drink
In order to give your baby a good supply of nutritious breast milk, you need to eat a healthy diet. This means a similar diet to what you may well have consumed during pregnancy, consisting of plenty of fresh fruits and vegetables, whole grains and cereals, calcium and iron-rich foods and protein, from meat or pulses.
It's also important to ensure you have plenty of fluids too, as this will help your body produce milk. Water is ideal to drink and you could aim for eight glasses a day, but beware of consuming too much alcohol, as that can get into your milk supply and reach your baby.
Caffeine, which is found in drinks such as coffee, cola or tea, can also affect your baby, so you may need to experiment with what you drink (with too much caffeine a baby may, for example, become very restless). Other substances, such as nicotine, should also be avoided as they, too, can reach breast milk.
You might also like...