Post-pregnancy Fitness Ideas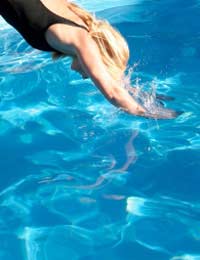 You've got over the birth and have recovered enough to want to think about fitness and exercise again. But what are the best forms of fitness activities for post-pregnancy?
Gentle Exercise - Walking
Walking is one of the best forms of exercise for women after the birth. Gentle exercise can be used by women who are recovering from a particularly tough or long birth, or even by those getting over the effects of a caesarean section. One of the benefits of walking is that's very accessible, easy and free and you can incorporate it into your routine with your baby.
Making time for exercise is often a struggle when you've got a new baby, as your normal routines are turned upside down and you're getting used to meeting the needs of your baby. You'll no doubt have some moments when you want to take your baby out for some air, and walking the pram or pushchair offers a great opportunity to get some much needed exercise too.
Swimming for Mother and Baby
Swimming is another ideal form of gentle exercise, as the water helps support your body. If you've had a caesarean section, then you may need to wait a while before you can start swimming, but otherwise you can try it as soon as you feel able to.
It's worth bearing in mind that babies can also start baby swimming classes from the age of three months or when they've had their first immunisations, so you could incorporate attending a class with fitting in your own quick swim too. You'd need someone else to look after your baby whilst you swim, but if a partner could be persuaded to go to the class with you, it would be a good way of using the time wisely.
Post-natal Exercise Classes
In some areas, you'll find special post-natal exercise classes being run. These are ideal, as they'll be specially designed and aimed at women who've recently given birth and will understand your specific needs, in terms of energy and fitness. It's also reassuring to know that there are other people there going through the same issues as you and that you'll not be expected to do too much if you're not feeling up to it.
It can be way too much of a shock to the system to go back to your old exercise classes too soon after giving birth, so classes designed for post-natal women are a really good option to choose. If you've been having any post-pregnancy aches and pains, like back ache or problems with your pelvic floor muscles, then these type of classes are likely to be able to help deal with these problems and advise on relevant exercises to do.
Improve Your Muscle Tone with Yoga
If you're an existing yoga-devotee, then some gentle yoga will help exercise your key muscles and improve muscle tone after pregnancy. It's advisable not to try going back to yoga too soon, so listen to your body and be guided by how you feel. In some areas there are special classes available aimed at post-pregnancy – if you find one near you, then it may well be a good option to choose.
One of the benefits of yoga is that it's a form of exercise that can be practiced at home too. So if you're finding it hard to fit it into your new schedule, hopefully you should be able to find time to fit it in at home, around baby feeding and sleeping.
You might also like...