Should I Diet to Lose Weight After Giving Birth?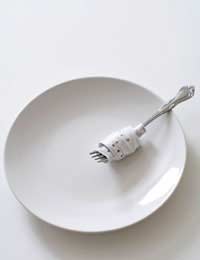 One of the slight downsides of pregnancy (and a tiny price to pay) is the extra weight you're left with afterwards. If you're keen to lose it again, is it safe to start dieting after giving birth?
During pregnancy, women put on an average of between 20 and 35lb, although the exact weight gain varies between different women and depending on whether you were underweight or overweight to start with. Weight gain is an inevitable and natural part of having a baby, but some women do feel a bit down about being left with the extra weight once they've given birth.
It's perfectly natural to want to lose your pregnancy weight and try and regain your old body shape. However, despite the media stories of celebrities giving birth, then losing tons of weight in super quick time and going back to their skinny pre-pregnancy sizes, it's not normal or kind to your body to try and attempt this.
When you've given birth and are getting used to life at home with your new baby, the chances are that losing weight will be far from your mind. It can take time to adjust to your new life and routine, plus many new mums feel tired and exhausted – especially if they've undergone birth via caesarean sections – and need to look after themselves. Trying to diet at this time could put extra strain on you, which is not ideal, as you need to be in a good state of health to look after your baby.
Breastfeeding and Dieting
If you're breast feeding, then there are also issues surrounding nutrition. You need to have a good intake of calories in your diet for breast milk to be produced. Some of these necessary calories will have built up during your pregnancy, but you do need additional calories when you're breastfeeding.
For example, the Department of Health advises that during the first three months of breastfeeding, women should try and consume between 450 and 570 extra calories. If you're trying to diet, you'll naturally be trying to reduce calories, rather than increase them, so this goes against what's required for breastfeeding.
Your baby gains a great start in life through being breastfed, so it's not a good idea to put your diet needs ahead of their feeding, as you could be compromising the nutrition of the feeds you're providing.
When to Lose Weight
It's clear that trying to lose weight too soon after giving birth isn't a good idea, so when is it safe to give it a go? The general advice is to wait until you feel able to cope with it or until your baby is three months old.
There is usually no major rush to lose weight and it's better to take your time and do so at your leisure, when you feel able to focus on dieting. When the time is right for you, the best way to do so is using a combination of careful eating and plenty of exercise. It's important to realise that the weight you've put on accumulated over a period of nine months, so it's unrealistic to imagine it will all vanish immediately.
In general, women can expect to lose their pregnancy weight gain over the course of a year. A safe and steady amount to lose it 1lb – 2lb per week and you can do so at its most simplest by cutting down on excess calories and exercising. You may well find that, as you're being more active with looking after your baby, it will help the pounds drop off. Or if it's difficult finding time to fit in exercise, when you're also looking after the demands of your baby, you could use the time when you're taking your baby out for a walk in the pram or pushchair as a time to exercise. Brisk walking, for example, is very beneficial.
Above all, try not to stress and worry unduly about your pregnancy weight gain. It's a natural part of having a baby and, although you may not get back to your exact pre-pregnancy body shape, if you work at it, over time you should be able to shed the unwanted weight gain.
You might also like...