Eating Fish Whilst Pregnant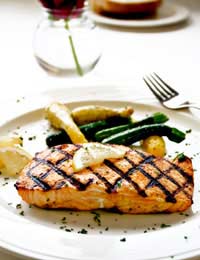 Most pregnant women will be told that there are certain food items that should be avoided or eaten in moderation whilst pregnant.Fish is one type of food that can cause some confusion for women as there are some that should be consumed in limited amounts. With that in mind though, it is important to understand that fish is excellent for health in general and is the main provider of omega-3 which is good for cerebral development.
What Types Of Fish Should Be Avoided Or Eaten In Moderation?
When you are trying for a baby it is important to recognise that there will be a build-up of some types of pollutants in your body so it is best to try and rid your body of these long before you try to conceive a pregnancy.
These pollutants are found mainly in oily fish, so whilst these should be consumed regularly, they should only be taken in small amounts.Shark, swordfish and marlin should not be eaten during pregnancy and breast feedingAs they may contain high levels of mercury obtained from their habitat which can affect the nervous system development of your child.Tuna is also likely to contain some level of mercury so only two portions of fresh tuna should be eaten weekly.
Tinned tuna is thought to pose a lower risk but care should also be taken not to eat a big amount.
What About Shellfish?
Although shellfish is an excellent source of many nutrients, it is also a frequent source of food poisoning so whilst it may be safe to eat after being bought fresh from the fishmongers and cooked the same day, buffet style meals are best avoided as the food may have been exposed to the open air for quite some time and usually offers raw forms of the food.
The Good News.
Research has shown that pregnant women who regularly eat fish during their pregnancy produce children who perform better at school and have improved behaviour and better communication and social skills.Oily fish is known to be good for health and although tuna should not be taken in great quantities, mackerel, sardines and pilchards are excellent sources of omega-3 fatty acid and are relatively safe to eat regularly.This fatty acid will cross through the placenta into the developing baby and also pass through breast milk following delivery.
What Is The Best Advice?
Eat fish that has been cooked properly.
Avoid shark, swordfish and marlin.
Avoid raw shellfish, especially from a buffet.
Limit your tuna intake to two portions a week.
Eat plenty of other oily fish or eat lots of seeds to ensure an optimal level of omega-3 fatty acid.
If you have any concerns, speak to your midwife or doctor.
Fish is a superb way of adding essential minerals to the diet and ensuring your baby develops well.There are some fish that should be taken in moderation or avoided during pregnancy but on the whole it should be considered a good food source whilst pregnant.
You might also like...