Which Foods Are Not Safe in Pregnancy?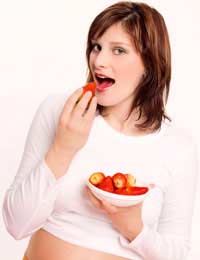 Eating a healthy diet during pregnancy is crucial as it will help both the health of yourself and the health and development of your unborn baby. But there are some foods that aren't safe to be eaten during this time and should be avoided for the duration of your pregnancy.
Some Types Of Cheese
Recommendations for pregnant women suggest it's best to avoid eating all soft ripened cheeses and blue veined cheeses, such as brie, camembert, chevre (a type of goats' cheese) and stilton. This is due to the fact that ripened soft cheeses are less acidic and contain a lot more moisture than hard cheeses. Because of this, they're more susceptible to bacterial growth, such as listeria, which could harm your baby.
It is worth noting that cooking should kill off any listeria, so it should be safe to eat if it has been thoroughly cooked. You can continue to enjoy all types of hard cheese, such as cheddar, as well as processed cheese and cheese spreads.
Raw Or Undercooked Eggs
It's advisable to avoid raw or undercooked eggs, as they run the risk of containing salmonella. This can cause diarrhoea and vomiting and be harmful to your baby. So during pregnancy, make sure you cook eggs thoroughly, so that both the yolk and the white are hard. Also, remember that foods such as mayonnaise, mousse, meringue and some sorbets may contain raw eggs. If you're eating out and are unsure of what ingredients may be in some foods, always ask to check or avoid them completely to be on the safe side.
Pâté
All types of pâté are best avoided too, including vegetable pâtés. This is because all pâtés can contain listeria. In the case of liver pâté (and this goes for all liver products too) it contains high levels of vitamin A, which is believed to have harmful effects on unborn babies.
Unpasteurised Milk
Unpasteurised milk from cows, sheep or goats is best avoided, as it's been untreated. It's also worth avoiding cheese made from sheep or goats milk for the same reason.
Some Fish
Most fish is safe, but there are a few types you should avoid. These are shark, swordfish and marlin and you should also limit the amount of tuna you consume to no more than two tuna steaks or four medium sized cans of tuna a week. This is recommended both during pregnancy and when you're breastfeeding.
These restrictions are due to the fact that these types of fish contain more mercury than other types. Mercury isn't harmful normally, but high levels when you're pregnant could affect the development of your baby's nervous systems.
Although other types of fish are fine, it's also suggested that you should eat no more than two portions of oily fish per week, such as salmon or trout, as it can contain pollutants, such as polychlorinated biphenyls, which could be harmful to your baby.
Raw Shellfish
It's also important to avoid eating any raw shellfish when you're pregnant, as they can contain bacteria and viruses which cause food poisoning. This isn't pleasant at any time and it can be especially horrible when you're pregnant.
Raw And Undercooked Meat
Avoid eating any raw or undercooked meat, as raw meat contains bacteria which can lead to food poisoning. Make sure that anything you do eat has been well cooked and is piping hot. Be on the lookout for any signs of pink meat, which can indicate that something isn't cooked through properly.
Other than the items listed above, most foods are safe for pregnancy. Just remember to eat a healthy balanced diet and you and your baby will be fine.
You might also like...