Syphysis Pubis Dysfunction (SPD) in Pregnancy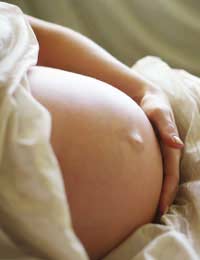 For most people, pregnancy goes without too much of a hitch. But for those who end up with the health condition symphysis pubis dysfunction (SPD), it can be less of a pleasant time. So what is SPD, why does it happen and how can it be dealt with?
What is Symphysis Pubis Dysfunction?
About three per cent of pregnant women are affected by symphysis pubis dysfunction, or SPD as it's commonly known, either during pregnancy or after the baby is born. The symphysis pubis is a joint that connects to the two parts of the pelvis together and normally it doesn't move much. However, in order for your baby to be born, your body produces a hormone called relaxin. The relaxin softens the normally stiff ligaments in your pelvis, which causes the joints to move more. Most women don't notice the effects at all, but for others SPD occurs and causes a lot of pain, inflammation and discomfort. The exact reason why some people suffer from this is unclear, but it's thought to be due to one side of the pelvis moving more than the other side, for example when walking.
At What Time Can SPD Occur?
SPD can start anytime during pregnancy and even after the birth. For some women, the symptoms come on at the end of their first trimester, but for others the symptoms become apparent in the middle of pregnancy. Symptoms include pain in the pelvic, pubic area or in the groin, but it's also possible to feel a clicking feeling in you pubic area. Pain can go down the inside of the legs and thighs, some people have back pain and hip pain and it's made worse by moving, going up or down stairs, moving around when you're in bed and when you separate your legs.
What Can Be Done to Help SPD?
Your GP or midwife should be able to advice you on potential treatments. They should give you some advice about appropriate exercises you could do, for example for the pelvic floor muscles and the stomach muscles, that should help your SPD and may well give you a support belt to wear. Sometimes hydrotherapy can aid the discomfort or you may need a form of gentle manipulation to help it.
As well as advice and help with treating the symptoms, your GP and midwife should provide coping ideas, as it's difficult going through pregnancy with added pain and discomfort. You'll have to adjust your daily activities and routine to cope with it and will have to rest and sit a lot more than usual. If you've got other children, then you may need help for a while and will probably have to avoid any heavy lifting or pushing activities, such as pushing a pram or pushchair.
You may also need to give more thought to, or even rethink, your birth plans, to take into account the SPD and effects it can have. SPD can be very debilitating, and it's not a pleasant health condition to have, especially during pregnancy. But as long as you're aware of what is causing your symptoms, how to cope with them and have professional medical assistance and advice, then you should be able to cope and get through it.
You might also like...