What Does Protein in Your Urine Mean?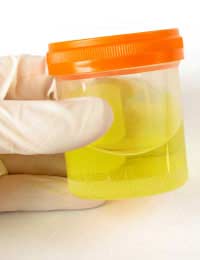 Throughout your pregnancy, you'll have various antenatal appointments, where your midwife will carry out routine health checks. Urine checks are common, but if you're told that you have protein in your urine, what does this mean?
Antenatal appointments are scheduled at regular intervals during the course of your pregnancy, with first-time mums having about 10 altogether. If you're in good health for subsequent pregnancies, then you may need fewer appointments. At many of your antenatal appointments, the midwife will ask you to take along a urine sample, or to provide one on the day.
Urine tests are widely used in all areas of medicine to assist in the identification, diagnosis, monitoring and treatment of a wide range of health concerns. Using a simple dip stick technique, medics can tell whether your kidneys are working properly, if you have a urine infection, if you have blood in the urine, sugar in the urine, kidney stones or even protein in the urine. In the first instance, for example, a simple urine test may well have been used to determine whether or not you were pregnant!
Protein in Urine During Pregnancy
In most cases, the results of your urine test may well come back perfectly fine, but sometimes the test may reveal an unexpected result. Protein in the urine is something that can happen at any time, but is particularly common during pregnancy. Having protein in your urine – or what is also known as proteinuria – is linked to how your kidneys are functioning.
When you're pregnant, your kidneys may be under pressure to work harder than normal, which could account for the presence of low amounts of protein in your urine. It can also be a sign that you may have a urinary tract infection, or UTI, and might need a short course of antibiotics to clear it up.
If you've been found to have protein in your urine on one occasion, even if it was only a small amount, then this will be followed up at subsequent antenatal appointments. This is especially important as protein in the urine can be an early sign that you may be developing the potentially serious condition pre-eclampsia.
If you're found to have high levels of protein in your urine, then your midwife may well arrange for a blood sample to be taken as well. This will enable medics to check how your liver is functioning too. If pre-eclampsia is likely to be linked to the protein in your urine, the levels of protein found normally increase each time it is tested.
High blood pressure is also linked to pre-eclampsia, so if the pregnancy condition is suspected as a cause for high levels of protein in your urine, your blood pressure will be checked regularly. Other symptoms of pre-eclampsia include very swollen hands, feet and face, headaches, blurred vision, vomiting and pain below your ribs. The symptoms can come on suddenly, especially during the second half of your pregnancy, so if you experience any of the symptoms, don't delay contacting your midwife or GP.
The pre-eclampsia link with protein in the urine can sound alarming, but in the majority of cases the protein isn't a warning sign of anything untoward.
You might also like...
Is bleeding with noise good for a pregnant woman?
G.i
- 14-Jun-17 @ 9:57 PM
what couses abdominal pain at early pregancy?how should i take care of myself while such problem?what diet should be taking during nd after pregancy?
unique princess
- 3-Jul-12 @ 8:23 PM