Testing Twins - Antenatal Tests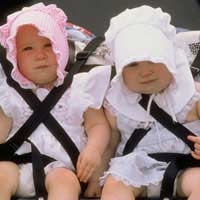 Being pregnant with one baby can be challenging enough but if you're carrying twins, it can be even more demanding. If you're pregnant with twins, on the whole your pregnancy experience will be similar to those of mums carrying only the one baby, but there will be a few differences, including what antenatal tests are carried out.
Usually pregnant women are offered a diagnostic test called chorionic villus sampling at about 10 to 13 weeks of pregnancy. It's designed to tell you whether or not your baby has a genetic condition such as Down's syndrome, and involves taking a small sample of the placenta tissue for testing. Although this test is great for single pregnancies, it unfortunately isn't an option for women pregnant with twins. This is because, although it may come up with a result, it's not possible to show you exactly which twin is affected, so isn't much use.
Twin-Friendly Tests
The alternatives to chorionic villus sampling available to twin pregnancies are the diagnostic test amniocentesis and the nuchal translucency screening test. Amniocentesis is usually carried out between 15 and 20 weeks of pregnancy and involves an ultrasound scan and taking a sample of amniotic fluid from your womb. A fine needle is passed through the wall of your abdomen and womb and into the amniotic fluid that your babies are floating in. A small amount of the fluid is then taken out using a syringe and sent away for testing. There's a tiny – less than 1% - chance of suffering a miscarriage, so it's important to rest after having it done.
Carrying out the amniocentesis test is a highly skilled procedure, especially where twins are concerned. The doctor will have to take a sample of fluid from not one, but two bags of water. In most cases this is possible, but on rare occasions, the babies are both inside the same bag of water. When this occurs, it's not possible to carry out the amniocentesis test.
The nuchal translucency test is one of the most accurate screening tests for Down's syndrome and is available at between 11 and 13 weeks of pregnancy. State of the art ultrasound scans are used to measure the amount of fluid between two layers of skin behind the neck area. This can be easily carried out whether you're carrying twins or not and provides you with the result in the form of a risk factor.
As well as these tests, you'll have more antenatal appointments if you're pregnant with twins. These are usually scheduled for every two to three weeks in the first and second trimesters, and weekly in the third trimester. They'll be designed to monitor your health and keep an eye on the growth and development of your babies. Four to six ultrasound scans will be carried out and, if your twins share a placenta and are identical, you'll probably have more regular scans and checks.
Although twin pregnancies are generally regarded by the medical profession as carrying a higher risk than single pregnancies, it doesn't necessarily mean that you'll experience any problems. Many women sail through their nine months of pregnancy with no difficulties at all and give birth to two healthy babies. But as with any pregnancy, there's always the possibility of problems arising.
The general advice is to take care of yourself, attend all your antenatal appointments (even if you feel fine and don't think you need them!), follow any advice from your GP or midwife and don't put off seeing a doctor if you experience any unexpected symptoms.
You might also like...