The Ultrasound Scan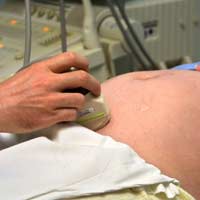 As part of the antenatal tests offered throughout pregnancy, you'll have at least two ultrasound scans. These are routine and are designed to check on the health and development of your baby. Ultrasounds are generally one of the most unobtrusive types of test you'll face, but if you're nervous about what's involved or it's the first time you'll have had one, here's a rundown of what to expect.
The good news is that ultrasounds are completely pain-free and stress-free. Although you may be anxious to know how things are in the womb and how your baby is progressing, it won't hurt to have an ultrasound and it shouldn't be something to cause you worry. It's also a chance for doctors to check your health too, as the scan can see how your uterus and cervix are doing and make sure everything is okay. Scans can, for example, detect conditions such as ovarian cysts or ectopic pregnancies.
What's Involved?
To have an ultrasound, you'll have cold gel put on your stomach and the person doing the scan will move a small handheld device over your skin. It works by transmitting high frequency sound waves through the uterus. The waves bounce off the baby and the echoes that return are cleverly translated by a computer and become an image on screen. This image shows your uterus and baby. The area around the baby, which shows up as black on the screen, is the amniotic fluid that he lies in.
In some cases, particularly early in pregnancy, you may be asked to drink lots of water in advance, so that the stenographer can get a good picture of your baby. In cases where your baby is too deep in your pelvis, it's early on in your pregnancy or if you're overweight, it may be necessary to do a vaginal scan. A long scanning device is inserted a short way into your vagina and the scan is done. This method usually gives a very clear picture of your baby and won't cause any harm.
When Will I Have Ultrasounds?
The first ultrasound you have may take place in the first 10 to 12 weeks of pregnancy. Early ultrasounds such as these are great for helping calculate exactly how old your baby is, when he was likely to have been conceived and an estimated due date. If the baby is developing well and everything is fine, you may not have to have another ultrasound scan until about 20 weeks.
If any problems are detected, such as the baby not growing at the normal rate, the placenta is found to be in an abnormal position or any abnormalities are discovered, then it may be necessary for you to go back for one or more follow-up scans. You're also likely to be offered additional scans if you're carrying twins or multiples, if you're at risk of giving birth prematurely or have any existing health conditions (such as diabetes) that could affect your pregnancy.
Later ultrasound scans will be more detailed and will thoroughly check the development of your baby. For example, they'll use the scan to take lots of measurements of his growing body, including the brain, skull, chest, heart, arms, legs, spine, kidneys, bladder and skull. They'll also be the chance for you to see your baby in more detail and to learn - if you wish - whether you're having a boy or girl.
Ultrasounds are completely safe and have been used in hospitals for years. You're under no obligation to have them, but they can certainly help put your mind at rest and let medical professionals know that both you and your baby are healthy and well.
You might also like...