Food Allergies in Babies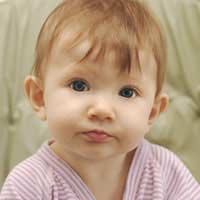 While most babies, like most adults, can eat a wide variety of foods without experiencing any difficulties, some babies do suffer from food allergies. Since allergic reactions can vary from mild to deadly, it is important for parents to familiarise themselves with the symptoms of food allergies as well as emergency procedures.
How Allergies Manifest Themselves
When an allergic person consumes a problematic food, the body acts as if an invader has entered and produces an antibody called IgE. If the food is eaten again, the antibodies instruct the immune system to produce chemicals, including histamine, which generate the familiar symptoms.
Once an offending food has been eaten, symptoms may be exhibited from minutes to several hours later. Occasionally, the symptoms may be mild and chronic, rather than sudden onset, but that is not the norm.
Although allergies are not specifically inherited, the tendency toward allergies is. For example, if one parent has any type of allergy, their children have a 50% chance of having allergies too, although not necessarily to the same allergen. If both parents have allergies, their children have an even greater chance of being allergic, as much as 75%.
Symptoms
In babies, allergic reactions to food may cause swelling, hives, chronic eczema, or breathing difficulties. Some babies will show gastrointestinal symptoms such as diarrhea or vomiting too. Severe reactions can be deadly, so food allergies must be taken very seriously. Parents must instruct all of their baby's caregivers about the child's allergy and caregivers should be made aware that the offending food may be an ingredient in other foods, so careful reading of the label is vital. For example, babies who are allergic to eggs may not be able to tolerate any foods containing whole eggs or egg derivates, such as cookies or other baked goods.
Common Allergens
Although virtually any food can be a potential allergen, some foods are more commonly cited as problematic than others. The following foods account for 80% of all childhood food allergies:
Eggs
Milk
Wheat
Soy
Peanuts
Tree Nuts (i.e. cashews, walnuts and Brazil nuts)
Fish (i.e. cod, salmon, tuna)
Shellfish (i.e. crab, lobster, shrimp)
Getting Emergency Help
Since severe allergic reactions can cost babies their lives, parents and other caregivers must be alert for symptoms and knowledgeable on how to get immediate emergency assistance. Sometimes, the difference between life and death is only a matter of minutes. Before leaving an allergic baby in the care of grandparents or babysitters, parents should leave detailed instructions about the quickest way to get help and should provide a list of emergency contact numbers. Caregivers should be instructed to call for professional help rather than attempting to drive a baby experiencing an allergic reaction to the hospital, since emergency personnel are equipped to offer immediate assistance.
Food Intolerance vs. Food Allergy
While certain foods may cause uncomfortable symptoms in some babies and children, the problem is sometimes an intolerance for the food, rather than a true allergy. Gastrointestinal symptoms that stem from an inability to digest certain components of food, but do not involve an immune system reaction, may cause discomfort but will not produce life threatening symptoms. Lactose intolerance is a common example of such a problem. Your baby's pediatrician can help you to determine whether your baby's symptoms stem from a food intolerance or a food allergy.
Prevention and Treatment
While expert opinions vary as to whether postponing exposure to potential food allergens will stop babies from developing allergies, there is something that parents can do to lessen the chances that their babies will suffer from food allergies. Studies support the idea that breastfeeding offers babies some protection against allergies, so breastfeeding is highly recommended, especially for babies of parents who are allergy sufferers.
Although allergy shots are available to prevent symptoms from such things as hay fever, no such treatment is available for food allergies. Avoidance of the offending foods is the only way to assure that allergic babies and children will remain symptom free. Parents of allergic babies and children must learn to be experts in deciphering food labels and proactive in ensuring that their children are protected from exposure to foods that pose dangers to them.
You might also like...