Establishing a Feeding Routine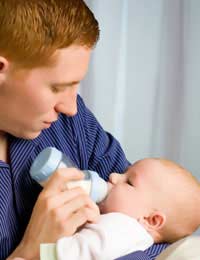 If you're struggling to keep up with feeding your baby on demand and want some more structure and organisation to your life, then here's some help and advice regarding establishing a feeding routine.
There are a lot of theories and opinions about what is right for mum and baby when it comes to feeding. Some people firmly recommend that you should feed on demand when your baby wants it, whilst others suggest a fixed routine is better. Both methods are perfectly legitimate and it's up to you which you opt for. However, there's no doubt that for the sanity and energy of a new mum, there are distinct benefits to be had from establishing a feeding routine.
Why Establish a Feeding Routine?
There are a lot of benefits to be gained from establishing a feeding routine. For a start, for parents it makes life more organised and you'll know when your baby is due a feed and be able to prepare for this, whether you're at home or out and about. For a baby, it can be good too, as he'll soon begin to build up an appetite and get hungry read to be fed and will feel satisfied when he's had a full feed.
This is in contrast to on demand feeding, where a baby often only has a small amount of milk at a time – the baby equivalent to snacking – and may not feel properly full up after a feed. This lack of fullness then triggers the need to keep being fed, which can be exhausting for mums.
When to Establish a Feeding Routine for Your Baby
When you've first had a baby and are settling back into life at home, developing a feeding routine is unlikely to happen immediately. It may take a few weeks to adjust with life with a baby, especially if it's your first child, and to get used to feeding.
However, whether a baby is being breastfed or bottle fed, getting into regular feeding habits is a positive mood for both mum and baby (and the rest of the family too!). You can try and start establishing a feeding routine as soon as it feels right for you.
How to Establish a Baby Feeding Routine
Switching from on demand feeding to a fixed routine may not happen overnight, as it takes time for all involved to get used to it, but you can begin to introduce set times of the day to feed and then build on this over the next few weeks. Babies who were born with a healthy birthweight may be more likely to adjust easily to the routine than premature or underweight babies.
It helps if you can break the day down into timeslots and work out when you'd ideally like your baby to be feeding, sleeping/napping or playing. Changing nappies will also need to occur, of course, but you'll need to go by your individual baby's needs for this. If you need to wake your baby ready for a feed, then changing their nappy can help wake them and get them ready for a feed). You'll also need to work out after how many hours you'll feed your baby – a standard that works for many parents is every three hours, as this gives time in between for sleeping or play.
So at 7am you may like to factor in the first feed of the day, followed by a spot of play and then a nap. If you're working on the basis of feeding your baby every three hours, then the next feed would be at 10am, with other feeds at 1pm, 4pm and 7pm.
Having a routine for feeding can help with establishing other routines for the day, such as time for playing and napping and give more structure to the day for everyone involved.
You might also like...