Finding Out About Breastfeeding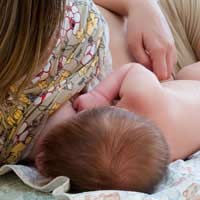 Breastfeeding is the most natural way of feeding your baby. Breast milk is packed with essential nutrients to give your baby a good start in life and, best of all, there are benefits for you too.
Breastfeeding your baby is one of the key ways in which you can bond with your baby from an early age. It allows you to develop both physical and emotional bonds and ensure your baby is being fed well. It's the method that the government promote as best, ideally for the first six months of your baby's life, so it's well worth giving it a try.
Breast Milk Is Best For Baby
Breast milk is packed with numerous nutrients and it also contains vital antibodies that offer key health benefits. For example, research has shown that babies who are breastfed are less likely to experience ear infections, chest infections, urine infections, gastro-intestinal infections, obesity and childhood diabetes. It also seems that breast milk can reduce the risk of developing allergic conditions such as the skin condition eczema and asthma.
In addition, some research shows that breast fed babies may help IQ too, scoring 5-10 points higher on standardised IQ tests.
Breastfeeding Is Good For Mum, Too!
While breastfeeding offers definite advantage for developing infants, breastfeeding mothers reap some benefits too. Studies show that mothers who breastfeed their babies have a lower incidence of pre-menopausal breast cancer than those who don't. Breastfeeding may also reduce the risk of mothers developing ovarian and uterine cancer too, plus it can help reduce the risk of weak bones later in life.
If you're anxious to get your pre-pregnancy body back (and who doesn't want that?!) breastfeeding may just help you zip up those jeans a bit sooner. Research has shown that mothers who breastfeed return to their pre-pregnancy shape a lot faster than those who don't.
Add to the equation that it's also an affordable and convenient choice for the early months, and aids bonding, and you've got plenty of reasons to give it a go.
Breastfeeding Tips
When you're breastfeeding, hold your baby close to you so he can tilt back his head and easily reach your nipple. As a rough guide, try and position him with his nose at the same level as your nipple, as this should allow him to easily latch on. Make sure you support his shoulders, neck and back and ensure his body is in a straight line, so it's easy for him to swallow.
Once you've concentrated on getting your baby's position right, you can then adjust your position so you're fully comfortable. It is a bit of a knack to get it all right, but you'll get lots of practice and with time it will become much easier.
Some mothers worry that their babies are getting enough breast milk, but if your baby regularly has feeds and seems content, all should be well. After the first two weeks of breastfeeding your baby should be gaining weight - if they're not, then they may not be feeding enough. It's also useful to know that in the first few days your baby should need at least six nappy changes. At least once a day, the nappy change should reveal that your baby has passed yellowy poo. These are all good signs that your baby is being fed well, is happy and healthy.
Help And Advice On Breastfeeding
Not everyone takes to breastfeeding automatically and it can be a bit of a struggle to get it right, so don't panic if it's not working well for you. Your health visitor is a good source of information when you're feeling stuck, or they may be able to put you in touch with a specialist breastfeeding counsellor in your area.
If it really doesn't work out for you, then bottle feeding is the alternative method. Whilst it won't provide the extra health benefits for you or your baby, it's a perfectly acceptable way of feeding and at least means that dad can take a turn too.
You might also like...