Aching Legs and Varicose Veins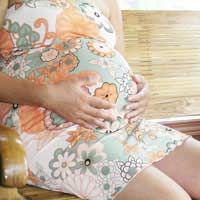 During pregnancy you may find yourself suffering from all sorts of ailments and aches. Two common conditions are aching legs and varicose veins.
Aching Legs
It's common to experience aching legs during pregnancy and it can be very uncomfortable and unpleasant. In most cases it's caused by sluggish circulation through the veins, which makes your legs ache. The hormones produced when you're pregnant relax the smooth muscle fibres in the wall of your blood vessels. Because of this relaxation, your circulation isn't as good as it normally is.
As well as making your legs ache, it's also the reason why your ankles are more likely to swell, you're more likely to suffer from varicose veins and haemorrhoids (piles). As pregnancy progresses, aching legs are also made worse by the weight of the uterus constricting circulation even more. The problem is particularly bad if you've been immobile, for example sitting or standing for a while.
Aching legs can be eased by:
Wearing support tights. They don't look great, but they do wonders for your legs (and help varicose veins too). Ensure you get full support by putting them on properly - roll them upwards from your ankle.
Moving your legs. If you're standing up or sitting down for long periods, get the circulation flowing by exercising your calf muscles. Circle your ankles, flex them up and down or rise up and down on your tiptoes.
Resting your legs when you need to. Try and elevate your legs, so they're higher than your heart, by propping them up on pillows.
Not crossing your legs when you're sitting down, as crossing can reduce the circulation.
If the problem persists or gets worse, then it's advisable to see a doctor or midwife. This is especially so if you start to experience swelling in one leg, pain on walking or moving the leg, tenderness and redness on one calf, breathlessness, chest pain, a terrible headache or high backache, as it could be caused by a blood clot or embolism (where a clot travels through your body). The risk of both these conditions is small, but the risk does increase slightly when you're pregnant.
Varicose Veins
In the same way that the hormones produced when you're pregnant relax the smooth muscle fibres in the wall of your blood vessels and cause aching legs, they can also cause varicose veins.
Another reason why varicose veins can develop is due to the pressure the growing uterus puts on the pelvic veins and the inferior vena cava - a vein on the right hand side of the body. This increases the blood pressure in the veins of the legs, which can cause varicose veins. The problem is exacerbated as the pregnancy progresses and the baby gets bigger. Other factors, such as a family history of varicose veins and being overweight, can also increase the risk. Estimates suggest that about 40% of pregnant women develop varicose veins.
By being aware of the risk of varicose veins it's possible to reduce the chance of getting them or minimise the effects if you are affected. Some practical tips for aiding varicose veins include:
Putting your feet and legs up whenever possible. Rest them up high on cushions or pillows, or lie on your left hand side with your feet up on pillows.
Wearing support tights
Not crossing your legs when you're sitting down.
Sleeping on your left side. If you're worried about turning over in the night, you can wedge a pillow behind your back to keep you in place.
Not standing up for long periods of time.
If you do have varicose veins, it doesn't necessarily mean you'll get stuck with them forever. Many people find that after giving birth, the problem gradually subsides in three to four months. However, if your veins are uncomfortable and problematic, it's possible to have them surgically removed.
You might also like...