Baby Hair Loss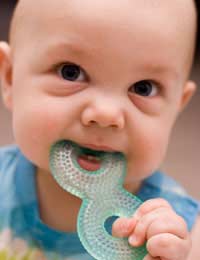 Some babies are born with more hair than others, but in many cases their abundant locks can thin out during the first six months. If you're worried that your baby is losing his hair, then don't despair – read on to discover the facts about baby hair loss.
As worrying as baby hair loss is, and as sad as it can be to see your baby losing their locks so soon, it's actually not unusual for babies to lose hair during the first six months of their life and generally it is not something to worry unduly about.
Why Do Young Babies Lose Hair?
Baby hair loss that occurs during the first six months of life is known as telogen effluvium. Newborn babies can be born with quite a head of hair, a fine dusting or be completely bald. In the case of those born with hair, some or all of it can be lost soon after due to changing hormones; specifically, hormone levels can drop after birth.
It's not dissimilar to what happens to women after giving birth – as their hormones change in the postnatal period, it's common to experience some degree of hair loss.
Sometimes there are other factors involved which may be related to a baby's hair loss, especially with slightly older babies. For example, if they always sleep in the same position, is prone to rubbing their head on their cot mattress or on the back of their baby seat, then the hair in these areas can become thinner or fall out.
What Can I Do To Prevent Hair Loss?
If your baby's hair loss is due to their hormonal changes, then there isn't anything you can do prevent it. If it could be due to habits, then are practical steps you can take to reduce more hair loss.
If you think your baby's hair loss could be due to their sleeping or sitting positions, then you could try making changes to the way in which your baby sleeps or sits. For example, if your baby likes turning and rubbing her head in a certain direction, rearrange the cot and place her down sleeping at the other end of her cot, so that she'll hopefully be turning the other way.
In cases where the back of a baby seat could be linked to hair loss, you could try carefully fixing something to the back of the seat, perhaps that is more padded or feels different, to discourage your baby from rubbing her head in the spot she likes. It's also good to remember that, as well as sitting in a baby seat, it's important for your baby to have plenty of time lying on her tummy during the day. This helps their development, but will also help reduce the emphasis on the back of her head and could play a part in reducing habit-related hair loss.
Should I Worry About My Baby's Hair Loss?
In the large majority of cases, there shouldn't be any major need to worry about your baby's hair loss. However, if you can't pinpoint a likely reason for it, your baby's hair doesn't seem to grow or they're still experiencing problems after the age of one year old, then do go and see your doctor for a baby check up. It may be nothing at all, but it's always best to be reassured than worry on your own.
You might also like...