Exercising After a Caesarean Section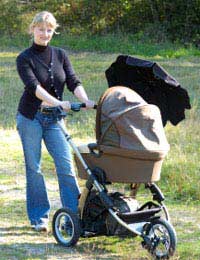 If your baby has been delivered by caesarean section (or c-section), then how soon is it safe for you to go back to exercising?
A caesarean section is a method used to deliver a baby, often in an emergency situation. It involves an incision being made in the abdomen so that the baby can be delivered out through the womb, rather than via the vagina. Statistics indicate that about 20% of babies in the UK are delivered via caesarean section. These are mostly due to emergencies, such as instances where the baby or mother might be at risk, but some are chosen in advance by the mother.
Recovery and Exercise
If you've had a caesarean, then it does take longer to recover than if you've given birth naturally – most importantly because you'll have also had an operation. Due to this, it's unlikely that exercise will be on your mind immediately, as you'll be tired and will need to take some time to recover.
In the weeks following the birth, you'll need to try and have as much rest as possible and avoid doing any bending or lifting for a while. Your abdomen may well feel sore and uncomfortable, and more so if walking up and down stairs. This means that you'll need help looking after any other children and will need to avoid doing any housework such as ironing, vacuuming and washing while you heal and recover. In fact, it's best to avoid lifting anything heavy – including a toddler or pram - for two to three months. Driving should also be avoided too, often for up to six weeks.
Even though you'll be resting, some very gentle exercise is recommended, to help prevent any blood clots forming. The best exercise at this stage is gentle walking and you should try and have a daily walk, perhaps around the block, if possible.
It takes at least six weeks to get over the initial tiredness and discomfort from a caesarean. However, as the weeks go past you should be able to look after your baby and carry out basic activities at home, even though very strenuous activities and exercise should be avoided. If you go out for a walk with the pram, be careful and try and avoid walking too far.
At six weeks, you should be booked in to have a check, which will make sure that everything has healed well and check your overall health. If you've got questions about what exercise you can now safely do, this is a good opportunity to ask. Everyone is different and recovers at slightly different rates, so it's best to get a professional opinion for your individual case. In general though, it's advisable to avoid any aerobics or competitive sports for three months.
Once you have recovered from the effects of the c-section, then you should be able to resume your normal pattern of exercise. Some women find that their pelvic floor muscles (even after a caesarean) and back need a bit of extra attention following having a baby, so there are exercises you can do to help both. Your doctor or maternity unit may be able to provide you with a leaflet outlining simple exercises that could help your pelvic floor muscles and back.
You might also like...