How I Cope With Three Babies Under 3 Yrs Old: Case Study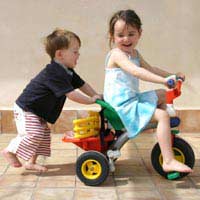 There's no doubt that bringing up your children is a rewarding job, but young children can be very demanding. If you've ever thought one or two under-three year olds can be hard work, then how about having three? One mum reveals how she copes with three babies under three years old.
"We'd always wanted to have a large family, but I hadn't planned to have three babies in quite such quick succession. Mother Nature seemed to have other ideas though," says 28-year-old, Laura. "I'm now mum to Ava, who's nearly three years old, Tom, who's one and a half years old and baby Ben, who's three months old."
"Ava was a bit too young to understand all that much about me being pregnant with Tom, although we did read her books with stories about having a baby brother or sister. We were very aware of the changes it would involve for her, when a new baby arrived, and she'd go from being the centre of attention to having to share us. She did take a bit of time to adjust, and reverted to wanting extra cuddles, sucking her thumb more and being a bit clingier, but did adjust relatively well.
Sharing the Load
My husband, Nick, has been great at sharing the load, which helps enormously with coping. He was great at ensuring that Ava had his attention when he was home from work and whilst I was breastfeeding Tom. He also spends plenty of time with all our children and has lots of time taking Tom and Ava down to the park.
When Ben was born, it was like take two, as Tom wasn't quite old enough beforehand to realise that a baby brother was about to arrive in the house. Ava did understand though and was quite excited. This time round, two of them had to adapt to life with three, but they're doing pretty well. Ava likes to help bath Ben and choose what clothes he'll wear. Tom acted a bit disinterested at first, but he does now often come over to see what Ben is up to.
Life with three babies under three years old is of course busy. I'm a full-time, stay-at-home mum and don't work. I don't know how I would work with three young children, but admire women that do manage to juggle it all. They're still all so little and each undergoing new challenges and changes all the time, that I wouldn't want to miss any of it. Ava and Tom go to various mum and toddler groups, plus they've been to Sing & Sign and Baby Gym. I keep in touch with my NCT group friends and we regularly meet up with our growing hordes of children, so there's plenty going on during the week.
Chaos at Home
Life at home is busy and chaotic. There's a constant pile of washing and ironing to do and, even though I'm at home a lot of the time, it's tricky finding time to fit in doing the housework. We've recently hired a cleaner, which helps. I hardly get time for myself and my hobbies and interests, aside from our family, have largely fallen by the wayside. It's a rarity for Nick and I to get an evening out on our own. I'm sure that's the way it is for many parents though and am confident we'll get more time once the children grow a bit older.
One of the benefits for the children will hopefully be that they're not similar in ages, so will have more in common. We hope they'll all play together, although I'm sure they'll be fall-outs from time to time, as all children have!"
You might also like...