Swollen Legs In Pregnancy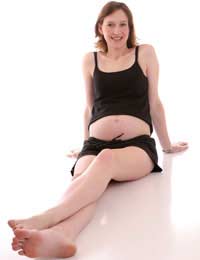 Most pregnant women experience at least a few uncomfortable symptoms. During the first trimester nausea and exhaustion are common and at some point in the third trimester the fatigue may return, along with several other discomforts, including swollen legs, ankles, and feet.
Causes of Swelling
Swelling in the legs, ankles, and feet during pregnancy, called edema, is very commonplace during the last part of pregnancy, and is often worse at the end of the day. Women who are due during the warm summer months are more prone to swelling than those who have winter babies. Pregnancy causes a normal increase in overall blood volume, the developing uterus applies pressure on both the vena cava and the pelvic veins, the large vein on the right side of the body which transports blood from the legs to the heart. This pressure causes blood to pool, forcing fluid into the tissues and producing the swelling that so many pregnant women experience. In most cases, the swelling subsides on its own after the birth and is not a cause for concern.
Easing the Swelling
Pregnancy, especially the last trimester, often makes women feel large and bulky, so most women are eager to find ways to ease the swelling associated with their pregnancies. Many women find some relief by lying on their left sides, which lessens some of the pressure on the vena cava. Elevating the feet is beneficial, too, so pregnant women should look for opportunities to sit down and put their feet up periodically during the day. Simple stretches of the legs, ankles, and feet while sitting can help, and short walks can often make the situation easier to handle. Wearing stockings with tightly fitting bands at the ankles of calves can be troublesome, but some women swear by waist high maternity support stockings, which help to minimise the pooling of blood. And while they may not be the most fashionable, comfortable shoes can be a blessing.
Healthy exercise and dietary habits are wise during all stages of life, but pregnant women may notice diminished swelling of their legs, ankles, and feet when they get regular, moderate exercise and eat well balanced diets. Swimming is especially favoured since the water can make it easier for women to manoeuvre their expanding bodies without adding stress to joints.
Choosing a variety of healthful foods, especially fruits, vegetables, whole grains and lean sources of protein can help, and it is important to stay well hydrated. Surprisingly, drinking ample amounts of water actually diminishes incidents of edema.
Causes of Concern
While most of the swelling that pregnant women experience is perfectly normal, there are times when it can signify a serious condition called pre-eclampsia. Puffiness of the face, especially around the eyes, swollen hands, or sudden, dramatic swelling of the legs, ankles, or feet are reasons to contact the GP or midwife for a visit. Also, medical attention is required if one leg is considerably more swollen than the other or if the swelling is accompanied by pain or tenderness of the calf or thigh.
Take it Easy
In today's busy world, many pregnant women find it difficult to make time to rest and relax. Some even say that they'd feel guilty to lie around or sit with their feet up. Pregnancy is a time of great change, with high physical demands placed on a woman's body. Additionally, she is preparing not only for labour, but also the responsibilities of caring for a baby. Experienced mothers would advise expectant mums to get all the rest that they can - it won't be long until they are chasing after an active baby and wishing for a bit of relaxation!
You might also like...