The Benefits of Talking to Your Baby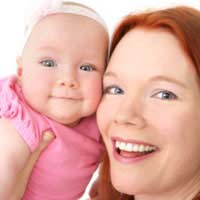 There are few things more thrilling for parents than hearing their baby's first words. The best way to encourage babies to talk and to develop a good vocabulary is to talk to them, regularly and using real words, not baby talk.
Friendly Conversations
Begin talking to your baby as a newborn and continue talking to them in your everyday interactions. You don't have to make a "lesson" out of these talks, simply go about your business and talk to your child. When you are
Changing A Nappy
, talk about how good it feels to get nice and clean. At
Bath Time
, describe what you are doing as you wash and dry your baby. These daily events will help your baby to develop an ear for language. They will become comfortable with the familiar sound of your voice and learn to anticipate your "conversations". As your baby begins to babble along with you, reward him/her with lots of smiles and keep the conversation going. Babies are social by nature, and talking with you is good for intellectual development.
As your baby grows, look for opportunities to introduce new words and types of language styles into his/her life. Read books, sing songs, and make up silly rhymes. Speech has a natural rhythm and a mastery of language will help your baby to develop into a good student and a lifelong learner.
Building a Vocabulary
Babies learn through repetition, so be sure to identify people and objects when you talk to your baby. When you hand your baby something, tell them what it is. Saying things like "Here is your favourite green hat" helps baby learn, especially when done consistently. Describe actions and movements, too. When you lift your baby say "up" and if (s)he wriggles to get down from your lap, ask "Do you want to get down?" Take advantage of opportunities to introduce new words whenever possible and remember that while the things that you encounter every day may not be exciting to you, they are brand new to your baby.
Babies to Toddlers
It won't take long for your quiet little baby to become an active, talkative toddler. While their first attempts at conversation may be hard to understand, make it a point to express your interest in what your toddler has to say. Repeat what you think they are saying and if they indicate that you don't understand, ask them to show you what it is that they want. Once they lead you to the desired object, show that you understand by saying, "Oh, I see! You want to read the monkey book!"
Offer Just Enough Help
Babies and toddlers will make a host of grammatical mistakes during their first attempts at speech. It takes a while for them to get the hang of proper sentence structure, so correct them without being negative. If your toddler says "Hims cold" you can gently guide him to a better way by responding, such as, "Are you cold? I'm cold, too. Let's get our sweaters."
When your new talker seems to be having difficulty finding the right word, offer your suggestion. Encourage them to attempt the words, though, rather than simply offering them an item that they may be pointing at. Many well meaning parents do so much of the talking that they don't give their new talkers ample opportunities to speak, too.
Be Descriptive
One of the most important things to remember when talking to your baby is to be descriptive. Rather than simply saying "car" say "big red car with a black top". The world is a new and exciting place for your baby and you are in the unique position of being your baby's first and most important teacher. Use your words to paint a picture of what your baby is seeing and soon, they will be using words to describe things to you, too!
Dunstan Baby Language
For more information about communicating with your baby, take a look at our article on the
Dunstan Baby Language
learning system, which offers parents an insight into their babies needs by teaching them to understand five basic baby sounds.
You might also like...