Having a Home Birth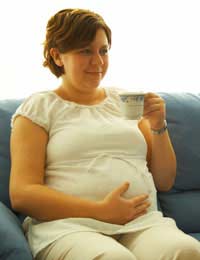 Demi Moore's done it and so has Pamela Anderson - like many women, they've chosen to give birth at home. Although some people wouldn't think beyond the idea of having their baby in hospital, others can't think of anything nicer. If you're keen to have a home birth, the option is there and available.
For those that want to give birth at home, it's often because it offers a much more personal experience and they feel safe and secure at home. When you're in a familiar environment, you tend to feel more relaxed and in control, plus it can seem much more natural. You can have whoever you'd like there to witness the birth with you and you're not faced with restrictions on what you can and can't eat or drink, or where you can move around. Most importantly, a birth at home can be a very intimate affair, as you'll be bringing your baby straight into the home where he'll live.
Practical Issues
If you're keen on having a home birth, then discuss the situation with your midwife well in advance and arrange to book it in. From a practical point of view, you do need to ensure your home is suitable for a home birth and that you've got plenty of space and comfort for it to take place. Some of the issues to consider include:
The environment - is your home warm, quiet, peaceful and private, so you can have a relaxed birth without being interrupted or disturbed?

Other children - if you've got other children, do you have someone else who could look after them whilst you're giving birth?

Communications - can you get good mobile phone reception in your house or do you have a telephone handy in case the midwife needs to contact anyone?
Animals - if you have pets at home, will they be in the way and do you have anyone else who could look after them for you?
It's also important to ensure that a home birth is right for you, as there may be medical or health issues that could make it tricky. Again, chat to your midwife and find out whether she thinks a home birth will be suitable for you.
Having a home birth does mean that you won't be able to have an epidural, but your midwife will be equipped with gas and air (or entonox) and pethidine, or you could try a TENS machine, so if you need pain relief, there are still options available.
If Circumstances Change
Even if you're declared as fit and healthy and able to have your baby at home, unfortunately there are times when circumstances change and you might need to go to hospital after all. Statistics suggest that about 17% of people having a homebirth are transferred to hospital, with that figure rising to about 40% for first time mums. Complications do happen - whether you're in hospital or not - but being in a hospital, where there are plenty of trained medical experts, equipment and drugs is important in some situations.
Some of the reasons why you may need to be transferred to a hospital include:
Placenta abruption - this is where the placenta starts to come away from the uterus and can be very dangerous for mother and baby.
Retained placenta - if some of your placenta stays in your body and doesn't come out, then you'll need hospital treatment.
Extreme exhaustion - if you've had a long and hard labour and have got to the point of exhaustion, then you may need to be transferred. This is especially so if your baby is showing any signs of distress.
Post partum haemorrhage - this is a form of excessive bleeding after you've given birth and may need treatment in hospital.
Cord prolapse - a rare condition where the umbilical cord comes out from the uterus in front of the baby's head, potentially cutting off the oxygen supply. It can be dangerous.
Bringing your baby into the world in the comfort of your own home could prove to be a highly memorable moment for you. Many women have successfully given birth this way and many more continue to plan a special and natural birth at home.
You might also like...