Sex During Pregnancy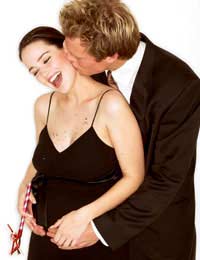 It's normal to worry about whether or not it's safe for you to have sex whilst you're pregnant and it's something many women are concerned about. So is it safe?
The Good News
The good news is that for the majority of people, sex during pregnancy is safe. There's no medical evidence showing that it can harm either you or your baby, so if you and your partner want to indulge, it should be fine to do so. Your baby is protected in the uterus by the bag of water, which cushions movement, and the mucus plug which seals the neck of the uterus. Whilst the baby may feel movements made during sex – and you may also feel your baby moving around and kicking – he won't come to any harm.
There's also no need to worry that having sex may induce your baby early in pregnancy. Experiencing mild contractions during arousal and orgasm is common, but they aren't powerful enough to induce labour, unless you're due anyway. It's because of this that many women who've gone overdue enjoy having sex to try and induce their baby, helped by the fact that the prostaglandins in semen soften the cervix. As well as sex, nipple stimulation is a good way of encouraging labour when you're overdue, as it releases hormones that encourage the uterus to contract.
However, this doesn't mean you have to. You may well find that your levels of desire vary considerably when you're pregnant, with some women's sex drives plummeting and others soaring. If you're experiencing pregnancy side effects, such as nausea or fatigue, then having sex may be the last thing on your mind, or you may just feel too anxious about doing so. In addition, your body is going through a series of major changes and, as your bump gets bigger, sex in your usual positions may become a lot trickier!
Likewise, men go through similar changes in emotions and feelings, especially when it's the first time their partner is pregnant. For some it may be really exciting and different to have sex with a pregnant partner, but others may be reticent and reluctant to try it. Whatever your feelings and circumstances, don't be afraid to talk about sex with your partner, find out how you both feel and do what's right for you.
When Not to Have Sex
There are a few exceptions and circumstances where it might be better not to have sex, for example:
If you've got a history of miscarriage, then it may be better to avoid having sex for the first three months of pregnancy. If you're unsure, then your GP should be able to advise you.
If you have a low-lying placenta.
If you've got a history of giving birth prematurely it may be better to wait and have sex later in pregnancy. Again, your GP should be able to advise you.
If you're at all concerned about having sex, particularly if you've had pregnancy problems in the past, then speak to your midwife or GP for advice.
For most people, however, sex can be happily incorporated into your pregnancy lifestyle, if you both desire.
You might also like...