Coping with Pregnancy Cravings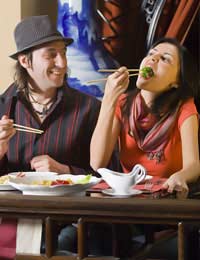 One of the strange mysteries of pregnancy is the sudden desire to eat certain foods – even things you normally dislike and won't go nearer. But if you're experiencing pregnancy food cravings, how can you learn to cope with them?
Pickles, gherkins, ice cream, curry, salted crisps, fish and chocolate are just some of the many food cravings that women commonly experience in pregnancy. The craving phenomena effects up to 75% of women, to varying degrees, making them yearn to eat certain foods. Bizarrely, it can even involve foods that you don't normally eat and don't even like, but suddenly they become appealing when you're pregnant.
An interesting study conducted in 2008 found that 75% of women surveyed had experienced food cravings during pregnancy, yet five decades ago, the figures was only 30%. It's hard to know why pregnancy cravings have increased so much, but the researchers suggested it may be due to the increase in the types and varieties of food products available today. It's now much easier, for example, for women to source and consume a wider variety of food to satisfy their cravings.
If you do experience food cravings during pregnancy, then don't worry unduly, as it's a normal side-effect. Cravings are understandably satisfied when you consume the food you've been longing for, but do try not to go overboard and excessively eat loads of one type of food only. Diet and nutrition are very important during pregnancy – both for you and the health of your growing baby – so try and eat a healthy, balanced and nutritious diet.
A little bit of what you fancy, in moderation, is fine. But if you're really suffering with cravings, one way of coping with them is to try and have vaguely healthier alternatives to your cravings. For example, if you're longing for ice cream, why not try some low-fat frozen yogurt instead – it's still frozen, like ice cream, and comes in all sorts of flavours, but it's a lower in fat, sugar and calories.
If it's salt you can't get enough of, then try swapping salted crisps for salted popcorn or even salted low-fat pretzels. And if chocolate is your key bugbear, then a teaspoon of Nutella may be marginally better than eating chunks (or bars!) of chocolate.
One other issue to bear in mind is that some research suggests eating a filling and healthy breakfast may reduce the incidence of food cravings by up to 50%. It can be hard to do this if you're also suffering from morning sickness and don't fancy the idea of eating in the morning, but do try and have breakfast when you can.
Non-Food Cravings
As well as food, some women get cravings for non-food items. This can be anything from ice, coal, toothpaste, mud, chalk, soap or even rubber. It sounds odd, but is a known condition called pica and it's believed that the craving is probably caused by a desire for the texture or smell of something, rather than the taste.
If you experience pica, then do be careful and don't go mad trying to chew coal or chalk in the way you would an item of food. If you're concerned about this, it's a good idea to speak to your midwife or doctor, as you don't want to compromise your nutrition or health, or that of your baby.
You might also like...