Pets and Newborn Babies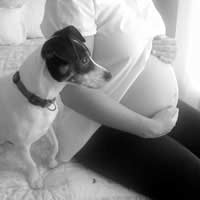 Most children have a natural love and appreciation of animals, and it is the rare parent who does not get a request (or hundreds of ongoing pleas!) for a family pet. While most families who welcome pets have positive experiences with them, there are a few cautions, especially if there are babies in the family or if a new baby is expected.
Expectant Mothers and Pets
If you already have a family pet and are expecting a new baby, there are several things that you should keep in mind. It is important not to handle animal faeces since the bacteria can be damaging to a developing foetus. While you are expecting, assign someone else the task of cleaning out the litter box and picking up the yard after Tabby and Fido have been there.
Preparing Before Baby Arrives
Many people worry about how their pet will handle the addition of a new baby in the household. While almost all domestic animals are sensitive to the changing environment, most handle the transition very well. There are a few things that you can do in advance to help your pet to welcome your new baby.
Schedule a veterinary visit to get all pets up-to-date on their immunizations. Also be sure that your pets have been wormed.
Provide your pet with an area that they can go to be alone. A crate works well for a dog, and a sheltered cubby appeals to cats. This will give the animal a safe haven once baby arrives and especially after the baby starts to become active. Animals who are used to interacting with adults may take a while to get used to the unpredictability of a small child.
Establish a routine that you will be able to maintain after the baby's arrival. Pets in an all-adult household may be accustomed to getting considerable attention and you will be very busy after you bring the new baby home. During the months preceding your due date, help your pets to learn to spend some time entertaining themselves, but be sure to spend a little time each day having fun with your pet.
Dangerous Dogs and Babies
Some dogs take to a new baby very well, while others will shy away or even show signs of aggression. Statistically, rottweilers, German shepherds, and pit bulls are the breeds that attack most often, but owners of all breeds must be careful when introducing their baby to their dog. Some animal experts believe that jealousy accounts for much of a dog's inappropriate behaviour, but many animal behaviourists cite a dog's natural instincts to explain such conduct. Oftentimes, the experts say, a dog may harm a baby simply because the two do not understand each other. A dog may interpret the movements of the baby as threatening, promoting an attack. In other instances, a dog that attacks a baby may be acting on its territorial instincts and views the new baby as an intruder. Finally, some dogs are instinctual hunters, and the sounds and movements of a baby identifies it to the dog as prey. Surprisingly, small dogs seem to be more prone to this behaviour than large breeds.
Even dogs that have been well behaved and accepting of an infant may bite once the baby starts to become more mobile. Once babies are crawling, they are likely to be curious about their furry friends and not all dogs are patient with tail pulling and face poking.
Cat Cautions
Cats are very sensitive to changes in environment, so the arrival of a new baby turns their world all topsy-turvy. Frequently, areas of the house that were once their domain are now off limits and the daily schedule has changed dramatically. Most cats will not display aggressive behaviour toward the baby, but will instead become moody and aloof. A formerly social cat may retreat to their cubby for much of the day, coming out only to eat and use the litter box. Some cats will begin spraying urine to assert themselves, while others display excessive grooming behaviours. In rare instances, cats may scratch or bite a baby, but more often than not, cats will not purposefully harm a small child.
Other Pet Cautions
Some pets, especially reptiles, are a common source of salmonella infection in children. Most experts agree that children under five years old should avoid contact with lizards, turtles, and snakes. Additionally, baby chicks and ducklings are not recommended for families with babies and young children. Older children and adults need to be fastidious about hand washing after handling these animals, but since babies and very young kids are not usually as careful and are inclined to put their fingers into their mouths, it is simply easier to choose other types of family pets.
You might also like...