Choosing a Nanny for Your Baby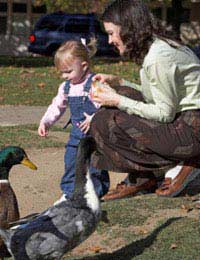 A nanny is an individual, usually a woman, who works as a private childminder for a family in their own home. A nanny may live in the family home, though there are live-out nannies as well. Some nannies do have training and qualifications while others do not.
If you are considering a nanny as a childcare option for your young child or baby do not hesitate to see a number of candidates, to interview them extensively regarding their training and experience and to introduce your own family to the nanny prior to the start of her employment.
See a Number of Candidates
When you're exploring your childminding options it can seem like the choices are endless – or non-existent. Don't allow yourself to be overwhelmed by options, no matter how many or how few there are.
If you are interested in hiring a nanny to care for your young child or baby then you need to target these women specifically. You may choose to work with a nanny agency (for which there will be a fee), with a nanny website or by placing your own print or online ads. If you get a low response the first time, try again. Do not see a few candidates and figure that you need to select from that initial pool. Even if time is running short, consider that you owe it to your baby to find the best nanny possible and use that motivation to arrange a few more interviews.
Interview Extensively
A interview for employment is not a time for an informal chat. While it's always nice to be social you must keep certain questions in your head as well. It is imperative that you ask a nanny about their childcare training, qualifications and experience. Ask if she has ever worked with a baby before, what she enjoyed about it and what she did not enjoy about it. Ask if she has references and follow up on them.
Discuss the hours that you require childminding, if you prefer a nanny to live in or live out, if travel will be required and what kind of salary or wage you can offer. Also discuss your preferred form of discipline for children, your baby's current schedule and anything else that you feel is non-negotiable in the care of your children. Getting these cold, hard facts out of the way in the interview will help you both better understand what is required and what can be provided.
Introduce Your Family
Since a nanny works with children it only seems fair to introduce her to your kids before she takes up employment with your family. You might ask a nanny to come to a meal at your house in order to get to know the family together. This can be an awkward time in which both the nanny and the children feel that they are on display or on audition, but by keeping the tone light you should be able to make it through. Allowing children and nannies time to get to know each other is in the best interest of everyone so don't let some potential awkwardness keep you from allowing this to happen.
Many parents consider hiring a nanny to look after their babies. If you are considering this arrangement, be sure to see a wide array of candidates, interview extensively and give your family time to meet a nanny before the employment commences so that you can feel confident you have made the best choice possible.
You might also like...