The Link Between Chlamydia and Miscarriage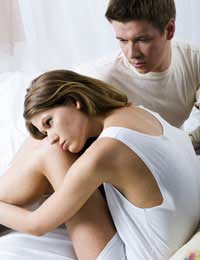 Miscarriage is a traumatic event for any woman to go through and it's only natural to want to try and find out where it's happened, especially if you've had more than one miscarriage. There can be many reasons why miscarriage occurs, but did you know there could be a link between the sexually transmitted infection, Chlamydia, and miscarriage?
What Is Chlamydia?
Chlamydia is a form of sexually transmitted infection which is caused by a bacterial germ. In the majority of cases where women catch Chlamydia, it's due to having sex with an infected person. It's one of the most common sexually transmitted infections in the UK, affecting about one in 20 people, and is most common in the under 25 year old age group.
Chlamydia usually affects the cervix and uterus (or the womb) in women and it's possible to have been infected without knowing it, as sometimes it causes no apparent symptoms at all.
Where symptoms do occur, the main symptoms are:
A feeling of pain or burning when you urinate.
Vaginal bleeding or small amounts of spotting between periods.
Pain or discomfort in the lower abdomen.
Pain when you have sex, or bleeding after sex.
Vaginal discharge.
How Is Chlamydia Detected?
If you have symptoms and go to a doctor, tests can be done to test for the infection. A urine sample may be tested, or you'll have a swab taken from your cervix. If Chlamydia is detected, you'll be prescribed a course of antibiotics and any current, or past, sexual partners will need testing and treatment too.
Although the tests are accurate in about 90% of cases, sometimes it's still possible for you to have Chlamydia without testing positive for it.
How Is Chlamydia Linked to Miscarriage?
One of the big problems with Chlamydia is that it's possible to be infected without knowing it. If you have no symptoms and never suspect that you could have become infected, then you're unlikely to have a test for it. If left undetected, Chlamydia can seriously damage the uterus and the fallopian tubes and cause pelvic inflammatory disease.
These problems can develop suddenly, in which case they cause sudden pain and a fever. But they can also develop very slowly and silently over months or years, gradually scarring and damaging the fallopian tubes even more.
This continual damage can lead to chronic pelvic pain, an increased risk of ectopic pregnancy – where the pregnancy develops in a fallopian tube, rather than in the womb – and increase the risk of infertility.
Other pregnancy complications may be more likely and it's thought that silent, unknown Chlamydia may also increase the risk of miscarriage too. In addition, there's also the risk that if you have Chlamydia but don't know it, you could also pass it on to your unborn baby too.
If you're having problems with conceiving and have had one or more miscarriage, then the chances are that your situation will be under medical investigation. One of the tests you may have is a pelvic ultrasound – often carried out vaginally – and this can help identify if there are any problems with the fallopian tubes or if pelvic inflammatory disease may be the cause of your recurrent miscarriages.
You might also like...
with your roots and herbs you have enveloped my frown face with smile, slung to stand,tube tie burned alive, i used your herbs and root according to the instruction given it materialized,i have conceive now and delivered a baby boy,from letter A-z can't speak how joyful i'm. contact him via on facebook (Oduduwa Ajakaye)
praisenight
- 11-Jul-18 @ 9:18 PM