Recreational Drugs and Pregnancy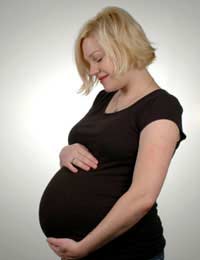 Recreational drugs and pregnancy aren't a good mix. Taking drugs whilst you're pregnant can cause all sorts of problems not least to the health and development of your growing baby. Here's the lowdown on the known risks and complications and why it's a good idea to stop using drugs when you're pregnant, or before you even start trying for a baby.
Cannabis
Studies into the use of cannabis during pregnancy have highlighted a link between the drug and growth and development problems, and babies being born with low birth weights. Babies exposed to cannabis whilst they're in the womb are also more likely to be restless, irritable and jumpy during the first few weeks after being born.
If it's smoked, either on its own or with tobacco, the smoke causes additional problems. For example, smoking increases the risk of giving birth prematurely, having a baby who dies from sudden infant death syndrome/cot death and of a condition called placenta praevia, or a low lying placenta.
Ecstasy
According to research published in the medical journal, The Lancet, taking ecstasy during pregnancy, increases the risk of your baby being born with abnormalities. In particular, babies had limb and heart problems, such as club foot and problems with bones and muscles. The drug poses risks at any time, but particularly during the first trimester, when a baby is going through the crucial early stages of development.
Cocaine
The drug cocaine is a powerful stimulant and using it whilst you're pregnant can cause serious problems. For a start, cocaine users are twice as likely as other women to give birth prematurely and cocaine can cross the placenta and enter the circulation system of your baby. Used during the early months of pregnancy, it increases the risk of miscarriage, whilst using it during the later stages can trigger premature labour. Cocaine can also cause a condition called abruption placentae, where the placenta separates from the wall of the uterus before labour. It causes a massive bleed and can be fatal for the mother and baby.
For regular users, the drug poses the risk of causing serious brain damage to babies, which can't be reversed, and it can cause a range of other abnormalities, including problems with the skull, heart, face, eyes, limbs, genitals and intestines. Low birth-weight babies are also common, as are a range of permanent disabilities. In short, the drug can have serious, life-threatening and long-lasting consequences for your baby.
Heroin
Heroin is another drug that can cause a host of problems for babies. In particular, it is linked with growth difficulties, stillbirth and premature birth. In fact, half of all babies born to mums who take heroin regularly arrive early. In addition, heroin can be passed to a baby through breastmilk and babies may be born suffering with withdrawal from heroin, suffering from symptoms like irritability, restlessness, distress and feeding difficulties.
Even babies born to heroin addicts being treated with methadone are affected to, and can show the same signs of addiction when they're born. Babies will need expert care and attention, both before and after the birth.
General Advice
In general, it's advisable not to use any recreational drugs at all, including the ones listed above and others such as LSD or amphetamines, whilst you're pregnant, or if you're trying for a baby. If your pregnancy is unplanned and you've still been taking drugs, it's best to stop doing so as soon as possible, as the early stages of development in the womb are crucial and your baby may have been exposed to harm. Having the recommended scans and antenatal tests can help to highlight any problems and, if you require help or support with giving up drugs, then see your doctor for advice and referral to a community drugs team.
You might also like...
this is really good advice, thank you
VickyWinner
- 29-Feb-12 @ 5:13 PM